Kim Kardashian's Go-To Nail Polish Shades Are Surprisingly Colorful
Dimitrios Kambouris/Getty Images Entertainment/Getty Images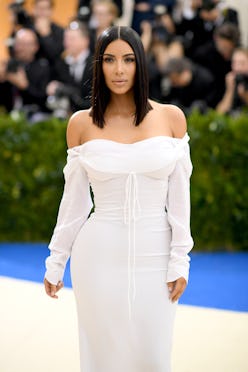 Manicures are now at the point where they've *definitely* seen better days, which means it's probably finally time to pull out your nail kit and tackle those chips once and for all. But if you've been overloaded with nails ideas as of late, you might be in need of some fresh inspo to inspire your next manicure. And while you may have written off the middle Kardashian sister as the queen of nothing other than neutrals, Kim Kardashian's favorite nail polish colors are actually a pretty diverse range of shades that are worthy of copying.
Kardashian is a style chameleon, and though her makeup typically revolves around a nude color palette, she tends to experiment with color in other ways. Look at any red-carpet appearance, Insta post, or street style shot and it's easy to see she's not scared of trying trends many people would run away from. This attitude has translated to her nails in the form of ocean-inspired acrylics, highlighter yellow manicures, and ultra-long nail extensions.
But save for those occasional dips into wild designs, if you look closely you'll see that, yes, neutrals are a repeating color pattern she continues in her manicures, too. She's unpredictable, but that's what makes her such good inspiration. Ahead, a look at the colors Kardashian has had painted on in the past.
Kim Kardashian's Favorite Nail Polish Colors: Nude
Nude is a major recurring color palette and trend for Kardashian, whether she's wearing it from her wardrobe or launching a new product in beige packaging. Her nails are no exception, and you can find a range of minimal colors, like pinkish-tan, beiges, and taupes, on her nails in many of her pictures.
Kim Kardashian's Favorite Nail Polish Colors: Highlighter Yellow
When you think of your go-to color, yellow nail polish probably isn't it. The shade is hard to match with every outfit and the wrong version can look obnoxious instead of '80s cool. But this highlighter hue chosen by the reality star shows that any color can be a Kardashian color.
Kim Kardashian's Favorite Nail Polish Colors: Light Pink
This whisper pink that Kardashian wore to the WSJ Magazine 2019 Innovator Awards is one of many times she's worked this color. Zoom up close on a variety of paparazzi pics, and you'll see light pink is an obvious go-to for her.
Kim Kardashian's Favorite Nail Polish Colors: Aqua Blue
While she's known for her love of neutral colors, Kardashian clearly isn't scared to branch out into bolder hues. This look was done by celeb manicurist Tom Bachik for the 2019 Met Gala, and according to his post, was custom made to match her Thierry Mugler dress.
Kim Kardashian's Favorite Nail Polish Colors: Mocha Brown
These chocolaty brown nails on Kardashian were done at Modern Pamper Salon and are a color perfectly suited for those who like neutrals, but can't bear another quiet nude.
Kim Kardashian's Favorite Nail Polish Colors: White
Though white nails are a popular summer color, they can seem a little boring at times — but extra-long square-tipped white nails take them to a different level. Not to mention, these really fit in with the Grecian goddess vibe Kardashian had going on at the CFDA Fashion Awards in 2018.
Kim Kardashian's Favorite Nail Polish Colors: Gold
Matte, and occasionally shiny, finishes are what you'll typically see on Kardashian's nails, but glitter, not so much. Here, Bachik used Kardashian's nails as a canvas to prove that glitter isn't just reserved for extravagant winter and holiday manicures.