The Tank & Trouser Combo Kim Kardashian West Can't Stop Wearing
Roy Rochlin/Getty Images Entertainment/Getty Images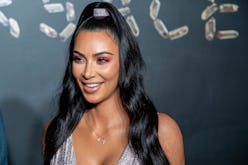 It's no secret that the Kardashian-Jenner clan has a thing for leather. Kendall Jenner wore Matrix-inspired trench coats all last season, paying perfectly homage to a '90s staple that will likely return with a vengeance this season. Kourtney Kardashian has been rocking variations of the buttery material nonstop, as well. And as such, it's only fitting that Kim Kardashian West dons her own signature leather staple: pants. That's right, the media mogul has been playing favorites with various grungy-chic bottoms — and she's been pairing them with one particular shirt type, too.
New York Fashion Week might be over, which means now's officially the time to sit back and sift through all the awe-inspiring street-style looks that debuted in the Big Apple. Kardashian West, along with trendsetter Jenner, took the city by storm with edgy getups that'll get you so excited for fall. It's worth noting that both had clear NYFW fashion favorites, with Jenner reaching for black knee-high boots all week long, while Kardashian West seemed to favor buttery leather pants over her usual mini dresses.
Kardashian West wore leather pants on Sept. 10, Sept. 11, and Sept. 12 — so it's safe to say she's quite the fan. And each time, she paired it with a cool new tank top. On Tues., for example, she was photographed out and about in New York City, turning the streets into her own personal runway whilst sporting your next favorite evening ensemble: flared leather trousers and a shiny silver top with an asymmetric hemline.
On Wed., Kardashian West made her way to an appearance on The Tonight Show Starring Jimmy Fallon — and as you could probably guess, she donned a pair of black leather bottoms, which she styled with a sequin-embellished mesh halter top. Thong sandals grounded the look, which she topped off (quite literally) with a slicked-back topknot.
The most recent Kardashian West leather pants sighting came on Sept. 12., when the media mogul was snapped en route to The View, wearing another take on what's quickly become her favorite trouser and tank combo of the month.
Ready to take your fall attire to a new level of cool? Then you'll want to add a pair of leather pants to your lineup ASAP. Ahead, the styles The Zoe Report can't get enough of, all of which would certainly earn Kardashian West's stamp of approval.
Shop The Look