Everything You Should Know About Kate Somerville's Powerful New Serums
Kate Somerville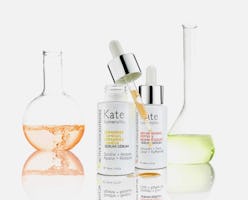 Sometimes, your standard skin routine simply may not cut it. Perhaps your complexion's looking a little dull and irritated, or maybe it's so dehydrated that your go-to moisturizer won't even make a difference. In those cases, it's time to turn to something much more concentrated that delivers a major dose of whatever your skin's missing. And Kate Somerville's new Kx Concentrates could be just the solution you've been searching for. Say goodbye to those pesky skin concerns, and hello to a happy, healthy face.
Between cleansing, toning, moisturizing, and applying that all-important SPF, you might think that you couldn't possibly be doing more to help your skin. Self-proclaimed beauty maximalists say differently, however, and could easily ramble off a dozen other products you should probably work into your routine. One of those that's likely on the list: Serums. The super-potent, fast-absorbing skin care products can completely transform your skin for the better — and Kate Somerville's latest launches are proof.
This May, Kate Somerville added two new products to the brand's range of cult-loved complexion savers, the Kx Active Concentrates. The super-targeted serums tackle two of the most tricky skin concerns that Somerville's clients report — namely, one works to take down irritation caused by environmental stressors, while the other focuses on fighting those telltale signs of aging like loss of firmness and the appearance of fine lines.
So what makes these new-to-market serums work? High, pro-grade levels of the active ingredients best known for treating those aforementioned symptoms. Expect results like you'd see from a visit to one of Somerville's clinics, but from the comfort of your own home.
The $98 Kx Ceramides + Omegas Serum, for one, is packed with bio-active phyto-omegas three, six, seven, and nine. Simply put, these powerful additives help support your skin's normal function and strengthen its natural barrier that wards off irritants like pollution and other impurities. A major dose of ceramides brings fatty acids that further support the skin barrier, plus enough hydration to equalize your complexion. On top of that, vitamin E, antioxidants, and amino acids further protect against free radicals and cut down on the signs of irritation (like redness and breakouts).
If anti-aging is more your focus, fix your sight on the Kx Bio-Mimicking Peptides Serum, also $98 and formulated specifically to fight off some of the most common signs of aging. It's got five different peptides that are bio-identical, meaning your skin will recognize them as if they were naturally-generated — so you can expect to see fast absorption and quicker results. These peptides, along with vitamin B9 and radiance-boosting ingredients like mango and banana pulp extract, work to smooth the surface of skin so fine lines, loss of firmness, and dull skin are a thing of the past.
And because Kate Somerville's new serums are so potent, a little goes a long way, making that slightly steep price tag much more bearable. Use just a drop of the serums together, or alone, after cleansing and ahead of the rest of your skin regime.
Below, check out both freshly-launched formula from Kate Somerville, and snag the bottle that best suits your skin's needs — or better yet, grab 'em both.