Dermalogica Created A Moisturizer To Help Breakout-Prone Skin Survive The Worst Of Summer
Dermalogica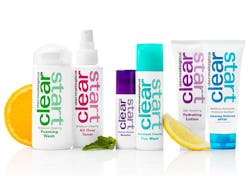 You already know how important it is to wear sunscreen on the daily. After all, sun exposure has proven itself to be one of the most damaging external factors for your skin. But if you have breakout-prone skin, you know that the sun's rays are far from the only thing that can create an unhappy complexion. So, what if there were a product that could not only protect you from harmful UV rays, but also a host of other environmental stressors that can cause skin to breakout? As it turns out, there is: the newly launched Dermalogica Clear Start Clearing Defense SPF30. Get ready to say goodbye to burns, breakouts, and big skin freak outs — for good.
Dermalogica is one of those cult-loved brands that's earned an incredible following based on years of tried and true skin care success. The line's dermatologist-developed products just work, plain and simple, and they're formulated to give you a healthy, happy face without the use of irritating ingredients. And that's no more true than for the brand's Clear Start collection, a range of products that are dedicated to delivering quick results for breakout-prone skin. Now, a new product is joining the line, and it's one that your skin routine absolutely needs (especially this season).
Dermalogica's Clear Start Clearing Defense SPF30, $28, is the newest addition to its Clear Start line, and it's officially available on the brand's site — just in time for a season when you'll inevitably be spending more time outdoors and in the sun. But of course, it's just as crucial to wear sunscreen even if you're cooped up inside, which is why this new SPF was developed for use every single day and protects you from a whole lot more than just the sun.
The brand's new SPF30 moisturizer is specifically made for skin that tends to breakout due to environmental stressors, and acts as a protective barrier so bad stuff stays far away from your pores. For the formula, Dermalogica leaned on ingredients like willow bark extract, green tea extract and vitamin C to fight against free radicals and pollutants (both of which can irritate skin and lead to redness or breakouts), while hydrating and balancing additives ensure your essential moisture barrier stays intact. All that, without clogging your pores. No kidding.
Plus, it's ultra-lightweight and not-at-all greasy thanks to natural tapioca which imparts a long-lasting matte finish, so applying this protective product to skin beneath makeup won't make it slick off far too soon (unlike many other SPF products). Slather your face, neck, and chest in a generous amount of the Clearing Defense SPF30 after cleansing, focusing on the t-zone to give a bit of extra shine control — an especially tip helpful during summer's hottest days.
Ready to protect your face in every way possible this summer? Go ahead and shop Dermalogica's latest launch, below. Your skin will be so happy you did.