How To Get A Low-Maintenance Beauty Routine In 23 Easy Steps
Courtesy of Lauren Caruso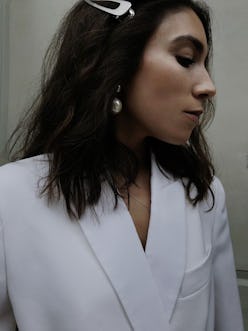 I'm not low-maintenance. It's an unwavering truth about me, just like the color of my eyes (brown) and the length of my nail beds (short). My skin-care routine is, at minimum, nine steps long — and don't even get me started about how many outfits I try on every morning. But after a very stressful attempt at packing my blow-dryer, straightener, and Beachwaver into a weekender for a three-day beach vacation last month, I knew I needed to find a more low-maintenance beauty routine. I barely wear makeup and I'm not about to give up my vitamin C habit, so I knew the course of action would be learning how to air-dry my hair.
Even though my hair is thin and wavy, I've never been much a wash-and-go woman: Instead, I've opted to spray a cocktail of four serums, sprays, and lotions on my hair before blow-drying with a round-brush for volume. After that, I'd take a straightener to it to create soft, undone waves, and then spend another 10 minutes tousling it to look like my hair naturally bends this way and that. I might even give it a blast of hot air a second time, or go in with my curling iron, just to get the texture just right: I'm generally going for a look that's equal parts deliberate and insouciant. But according to an informal office poll, it turns out a true low-maintenance beauty routine demands the absence of a blow-dryer and/or three other heat tools. Who knew?
But I couldn't just quit cold turkey. Because my wavy, chest-length hair was a damaged, flat mess — all those years of heat styling really catches up to you — first, I needed a haircut. I've been going to Bumble and bumble in NYC's Meatpacking district for years now, but my new, low-maintenance routine meant a new stylist: Erickson Arrunategui, aka the master of the blunt cut. I told him I was looking to quit the blow-dry cycle, and he said that because my hair is thin, keeping it all one length wasn't as risky as it would be for someone with thick hair. "Blunt cuts are great and low maintenance on finer textures," he says. "But on thicker wavy or curly hair, it may require more work to style, and can leave you with triangular shapes if you don't remove any weight."
He cut mine just below my collar bone, keeping it long enough for me to execute a hair-tuck, my favorite fall hairstyle. "Some people think the shorter the better, but that's not always true," he says. "Shorter hair means more frequent haircuts. However, longer bob lengths or mid-lengths are great, because they make a statement but don't require much up keep and grow out really nicely." Check and check. And it turns out, all the fussing I was doing with my hair was doing it more harm than good. "The less you touch it when you're out of the shower the better," Arrunategui says, who tells me I should brush it in the shower with a wide-tooth comb instead of messing with my round brush. He also advises to apply most styling products when your hair's wet.
I took his advice — mostly. Because my hair doesn't have a uniform wave pattern, if I don't tame it in some way, it can end up looking uneven — or worse, limp, with weird concentrations of frizz. So of course, I found a new cocktail of products that replaced the old: Instead of focusing on heat protection and damage control, I work more toward getting the volume and definition I prefer: Most days, that means starting with a mix of Ouai's Air Dry Foam with Kristin Ess's Air Dry Creme. Then, instead of using my straightener to coerce my hair into soft bends, I separate my hair into two even parts, twist them both away from my face, and secure it with a scrunchy. And instead of the final blast of heat to give my hair that undone, truly tousled look, I work in a couple of wave sprays and use my fingers to give it some additional texture. Lastly, I finish with a volume powder, et voilà'! Turns out, it takes a lot of effort to be low-maintenance.
Even with my new-and-improved 23-step hair routine, I've gone about a month without heat-styling; though I haven't cut my morning routine in half like I'd hoped, my hair is worlds healthier: Some days, I don't even need to douce it in shine serum to disguise my split ends — and there's something slightly more casual about me. Plus, I don't freak out if I don't have time to do much to it after I shower. Ahead, the not-so-low-maintenance routine I swear by now, plus a few of Arrunategui's favorites for air-drying.