Glossier Just Made A *Big* Change & Fans Are Going To Be So Happy
Courtesy of Glossier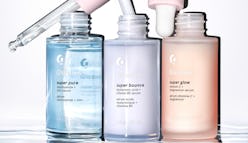 Glossier's Super Bounce serum was my first skincare love. I used to float between brands, skincare routines, and any samples I picked up from beauty stores — but after using Super Bounce, there was no going back. My under-eye area was smooth and bright. My skin looked positively plush. Then, as quickly as they came into my life, Glossier's Super serums were gone; marked as out-of-stock on the brand's website. This isn't the beginning of a beauty fan's horror movie, though. On May 13 Glossier's Supers relaunch, and each one's going to be bigger and better than ever.
Like, way bigger. The new Glossier Super serum packaging holds twice as much product as the original bottle — and will retail for the exact same price: $28 for just one of the serums or $65 for Glossier's value set. (The previous Supers held .5 ounces of product, while the new ones hold a solid 1 ounce.) Other than the increased volume, the relaunched bottles appear to be nearly identical to the original ones, too; which is a big plus, since using Super Bounce's scientific dropper was one of the first things to inspire any sort of excitement in me about a nightly skincare routine.
Which plays into the concept behind Glossier's Supers — they're powerful, skin-changing products that are easy to understand and easier to use. The collection is broken up into three products that work to help three different skin concerns; the vitamin C-rich Super Glow wakes up dull skin, the niacinamide and zinc serum Super Pure calms down redness, and the hyaluronic acid-filled Super Bounce deeply hydrates your skin for a smoother, bouncier appearance.
And Glossier's Supers are big on visible results, making them perfect for both skincare enthusiasts and anyone who's never even thought to incorporate a serum into their routine. The new formulas — yes, Glossier took this as a chance to tweak the serums — are impressively visual; after clinical trials, 90 percent of Super Glow users said their skin looked "energized" after two weeks, 90 percent of Super Bounce users said skin looked smoother after four weeks, and 90 percent of Super Pure users said they saw improved skin clarity after six weeks.
Nevertheless, while the very word reformulated can strike fear in a beauty fan's heart, Glossier made sure that the new serums would be as gentle as they were before. The brand focused on increasing the key ingredients' percentages — which, in turn, creates more potent products. It's a win-win.
Whether this would be your first time ever trying Glossier's Supers or just your first after the relaunch, keep scrolling down. All three new Glossier Super serums are below.