The Easy Gallery Wall Idea That's Perfect For Neutral Living Rooms
Photographee.eu/Shutterstock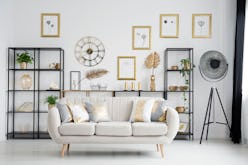 It happens every so often: You look around and decide you want to completely change the vibe of a room. Maybe you've just moved into a new home and the walls are looking bare, or you simply want to brighten up an awkward nook that doesn't fit the rest of your decor. But, if you just can't commit to a brazen accent wall or decorative wallpaper, there are a few gallery wall ideas that might be up your alley. In any case, it's the perfect way to add style to a space, show off your personality, and display art and photographs that would otherwise be collecting dust.
Creating an artful display is a wonderful way to decorate, but for first-timers, it can be hard to know where to begin. There are certainly some tricks to putting together a cohesive look, and more importantly, for letting your personality shine through. And the best news yet? You can scope out affordable wall art options to change the look of your space, no matter your budget.
Read on for expert advice from a design expert and an art collector, both of whom know a thing or two about making artwork look good. You too can hang a gallery wall like a pro — no paint cans or wallpaper required.
Design Your Room Around Your Art
Whether you have prints or pictures you want to display, or you're trying to establish a theme for your space, Sydney Holland, co-founder of The Urban + The Mystic and avid art collector, says to consider building your room around a gallery wall. Holland is the owner of over 100 pieces of artwork, so displaying her favorite pieces is always a priority. "I either build and design an entire room around art or I find a way to make a gallery wall the focal point of a room," she says, adding that she often chooses to mount decor on walls with the highest visibility.
Add Character To Small Spaces
On the flip side, a personalized gallery can also add character to small spaces throughout your home. "Almost any wall can be used to display a nice composition of artwork," says Karen Richani, a design expert at Havenly. "I really like creating gallery walls in a hallway since sometimes these spaces can be featureless, so a few pictures can brighten up these areas." She points out some other nooks that make perfect places to hang clusters of photos. "A gallery wall can be hung around windows, around doors, above bed headboards, and even around fireplaces," she says.
Make Your Pieces Stand Out
Holland mentions that choosing pictures that pop against your wall color can really make them stand out. "I think contrasting colors make a bold statement," she says. For instance, she suggests "hanging mainly white art or photographs against a black wall or mixing vibrant, colorful artwork to bring life into the space." Conversely, if your walls are white or neutral, try hanging pieces in brighter hues.
Add 3-D Elements
"Think outside the box when it comes to your gallery wall and what you want to feature," advises Holland. "Sometimes adding three-dimensional objects into the space in unexpected ways can highlight the photographs and art you're featuring in the gallery." For instance, she says, "as the owner of a crystals brand, I consider crystals to be just as beautiful as [they are] healing. When designing a gallery wall, I often add large-scale geodes to frame the wall and add a certain energy to the space." Another idea is to place sculptures on either side of a gallery wall to "add depth and interest" to your display.
Tell Your Story
Your gallery wall should be a reflection of you, whether you collect paintings, love showing off photos of family, have been all over the world — or all of the above. "Gallery walls can be used as a creative way to tell a story of your travels and experiences," says Richani. "They can also be a good mix of different styles of artwork that have been collected over time. To me, they add undeniable personality to any room without the need for painting or using wallpaper."
Pinpoint A Purpose
No matter where you plan on hanging your gallery, Richani says to build a collection that's somewhat cohesive. "Keep in mind what design aesthetics you are trying to achieve," she advises. "Figure out if you would like your wall to follow a specific color scheme, or if you want your frames to look minimal and simple. The purpose of the gallery wall needs to be clear: [whether it's] intended to display family pictures, an eclectic mix of sculptures, frames, and materials, or if the intention is to add color to the space, all these aspects need to be considered beforehand."
Plan Your Arrangement (But Not Too Much)
The best kind of gallery walls are eclectic collections featuring art of all different shapes, sizes, and textures. And when it comes to arranging them, Holland says not to overthink it. "When you plan too much, measure everything perfectly, or have everything too symmetrical, this sort of perfection can actually work against you," she explains. "Sometimes you have to hang what feels right to you — maybe it's a larger painting or portrait surrounded haphazardly by smaller framed photographs. This sort of personality brings dimension into the room and lets your design point of view stand out."
With that said, some forethought is necessary before you start hammering holes in the wall. Richani gives her pro tips: "lay out all the pieces of the gallery wall on the floor and start with what you think could be your centerpiece," she says. "Once you are set on a particular arrangement, make templates of each piece by cutting out paper in the exact sizes of your art, and tape those to the wall first. That way, you can transfer the desired placement on the wall." And when it comes to hanging, start with "largest piece of art first and work out from there. Be sure to use proper picture hangers, and double-sided Command tape is always a great idea."