8 Modern Planters That Are The Perfect Upgrade To Your Old Clay Pots
Lulu & Georgia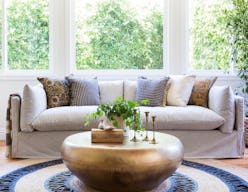 One of the easiest ways to breathe new life into a space is via houseplants. But if your plants are still living in the basic clay pots they came in, it's time for an upgrade. Luckily, Lulu & Georgia's anniversary sale is the ideal time to snag some unique indoor planters to streamline your home décor.
Los Angeles-based Lulu & Georgia is known for its on-trend, contemporary home goods, from full furniture sets, to modern wallpaper, to finishing touches like throws and table linens. And while most of the site's offerings come at a super-accessible price point, it's still worth jumping at the chance to save during this anniversary sale. Site-wide, shoppers will be able to take 25 percent off their purchases when they use the code BIGNEWS.
Among the brand's ample home offerings are great indoor planters, ideal for sprucing up your plants' housings to give them modern appeal. Many of the options are rendered in contemporary materials, like industrial concrete and high-shine metals, that'll instantly liven up your rooms.
Hanging planters, like the gold metal $28 Nuria Hanging Planter, and tabletop versions like the Alden Tabletop Planter, $25, are perfect for plants dwelling in your living room. Hang the metallic piece in a nook near your favorite arm chair to draw the eye there, and place the Alden planter on your coffee table to add a dash of greenery. With the sale code, you can score them for $21 and $18.75, respectively.
Other standout styles include taller, freestanding planters for larger impact. The Eva Egg Planter comes in a few different heights, so you can select one or create an architectural arrangement using multiple planters. The white stone planter and glossy gold stand bring a touch of modern-glam to any room, and during the sale, you can get one for as low as $375.25.
Consider the Wimina Plant Box, $80.25 with the discount, for your kitchen — place in front of a window for lots of light, and grow garden herbs like basil or dill that you can use in your cooking. Or, station it beside a free-standing bathtub, with lots of easy-to-care-for philodendron spilling out to create a spa-like bathroom retreat.
Lush greenery provides a dose of fresh color, and can actually help purify the air in your home — but plants require a stylish home themselves to really make an impact in your space. Shop some of the best planters for your green friends below, and don't forget to use the code BIGNEWS to save during the sale.