No Date, No Problem: This Singles Valentine's Day Activity Will Have You Feeling The Love
Saira MacLeod/Shutterstock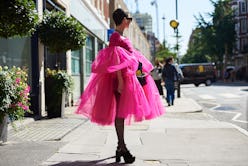 Love it or love to hate it, Valentine's Day not only exists — it's right around the corner. And while it's certainly understandable to view it as a consumer-driven holiday that often makes those who aren't in romantic partnerships feel less-than, there's also another way to think about it: A day to celebrate all the different kinds of love in your life. So if you've been wondering how to spend Valentine's Day single — and don't just want to call it off altogether — you might want to consider a few affirming, self-soothing, and sincerely fun things to do on February 14.
As Kaitlyn Herman, life coach and cohost of Quarter Life Crisis podcast, explains, there's good reason a lot of singles aren't exactly looking forward to the forthcoming holiday — and that's because they're often made to feel left out of it. "The most common misconception surrounding Valentine's Day is that you need to be in a romantic relationship in order to celebrate," she says. Yes, you're surrounded by messaging of traditional coupledom from every angle, but if you're able to reframe the narrative and see the day as time to appreciate the universal idea of love — instead of some very narrow version of it — you might just learn to look forward to this time of year.
Ready to plan this Valentine's Day on your own terms? See ahead for some things to think about if you want to celebrate your singlehood in all its glory.
Consider Your Clan
If you'd prefer to spend the day in the company of others for Valentine's Day, consider all your non-romantic relationships that are just as worthy of celebration. "Take this day to appreciate all the areas in your life that are abundant in love," suggests Herman. "It could be with family, friends, co-workers, or any community that you feel most drawn to and most loved by is a great place to start!" Just a few ideas: Gather your girlfriends for a last-minute trip, have a mother-daughter date, or go for an extra-long lunch with your favorite office mate.
Give Back & Show Gratitude
"You know the saying 'when you feel bad, make someone else feel better'? Do that today," Herman offers. While this can go hand-in-hand with the aforementioned advice (showing some love to the non-romantic loves of your life with gifts or even throwing together a little party), you can also feel the love by giving back to the community. Volunteer with your favorite local nonprofit as a total win-win on Valentine's Day.
Focus On Yourself
It's a new year and a new opportunity to focus on self-care, a practice Herman highly recommends for Valentine's Day — especially if it's a little spicy. "Spend some sexy time alone today," she advises. "Take a bath, buy yourself flowers, stand in the mirror naked and affirm yourself! You are beautiful. You are confident. You are loved." Other ways to spend the day solo (and love it) include taking yourself out to a fancy dinner, enjoying a matinee, or just setting time aside to journal and set some goals or list the things you're most proud of.