Busy Philipps Has Mastered The Art Of The Spontaneous Trip — And You Can, Too
Courtesy of HotelTonight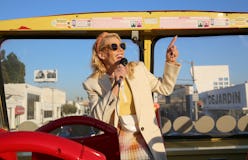 The whole point of going on vacation is to disconnect with your day-to-day (work, personal obligations, etc.) and recharge in a totally different environment — and it doesn't hurt if that place also has poolside margaritas available. That said, trips can sometimes be the very cause of your stress, when you're analyzing every last detail to the point that you won't be able to enjoy yourself unless everything goes exactly according to plan. If this describes you to a T, it's probably time you broke out of your comfort zone and opened up yourself to some more spontaneous travel ideas. Deep breaths, you can totally do this — especially with tips from travel aficionado and impromptu getaway fan, Busy Philipps, who has the practice down to an art form.
"Taking off for a spontaneous getaway can be the most stress-free kind of vacation," says Philipps, who recently partnered with HotelTonight to promote the advantages of last-minute travel, to The Zoe Report. "It puts you in a different headspace and being open to the spontaneity of it helps you let go of expectations, as they haven't had time to mount up. I've definitely made the mistake of over-planning a trip and mapping out activities for every minute; I ended up feeling exhausted, not refreshed."
As a kickoff to her partnership with the brand, Philipps recently spearheaded a bus tour of Los Angeles, showing a few lucky fans some of her favorite spots (complete with predictably hilarious anecdotes). And while playing tourist in her own city is one example of an impromptu excursion, she also has a few other go-to spots when she wants to getaway fast. Some of her faves include the Nobu Hotel in Cabo and Korakia Pensione in Palm Springs — both of which she can book last minute using the HotelTonight.
But the booking app isn't the only tip she's got for trying out the idea of spontaneous travel. Ahead find her best advice for ditching your stressed-out, over-planning brain and embracing your inner procrastinator.
Start By Picking A Date
Whether you're looking to go for a getaway with your mate for a last-minute Valentine's Day trip or thinking of getting the girls together for a quick escape, Philipps suggest starting by picking a date — and sticking to it — versus trying to coordinate everyone's busy schedule. "Try picking a date that works for you and then invite friends to drop in for all or part of the trip," she explains. "If everyone feels like they don't have to commit right away, you'll find that you have more takers in the end." And if all else fails, enjoy a relaxing solo vacay.
Make It A Road Trip
"Road trips are the best because you aren't bound by flight schedules — you have the freedom to stop and explore anywhere you want along the way," says Philipps. "If you're really up for a challenge, don't book your hotels or lock in your specific destinations in advance." This is the ultimate way to travel spontaneously.
Chat Up The Locals
It can be tempting to hit up Instagram and Yelp when figuring out where to shop and eat on your trip, but who better than the locals to tell you the best spots in town? "When I first visit somewhere new, I love stopping by a local bookstore to check it out and chat with the staff," shares Philipps. "They always know about cool cultural events and happenings around town that you usually don't get from trip research. They will have great restaurant recommendations, too."
Skip The Reservations
"I know it can be difficult, but free yourself from reservations for the weekend," Philipps suggests. "Instead, wander around a new neighborhood and drop into a local spot that catches your eye without using your phone to check reviews — go with your instinct."
Pad The Dates
If you have a bit of flexibility, keep a day or two before and after your trip free of plans — in case you want to stay a little longer. "When I'm exploring a new city for the weekend, there have been countless times when I'm ending a trip, but realized I just wasn't ready to go home," says Philipps. "Go with that feeling, take an extra day in a neighboring city or stay where you are."