16 Valentine's Day Gifts For Yourself, Because Self-Love Is Important, Too
Bagatiba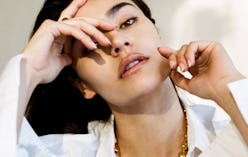 Self-love is undeniably important — but it's easy to forget about it around Valentine's Day. Single or taken, with so much focus on pleasing the people around you, you may end up burnt out before February even starts. Shopping for Valentine's Day gifts for yourself may seem like the exact opposite thing you should be doing before Feb. 14, but doing so may help you enjoy the big day even more.
Buying yourself what you want when you want it doesn't just take some of the pressure off a gift-heavy holiday. Whether you can quote Parks and Recreation's entire "Treat Yo Self Day" episode or can never resist completing RuPaul's "if you can't love yourself" call-and-response, it's obvious that everyone needs a reminder to put themselves first every once in a while. Instagram-famous artist Sophie King does it through embroidery: The artist's hand-stitched messages to take care of yourself have earned her over 77,000 followers and a spotlight in Vogue. You can pick up one of King's T'shirts — hand embroidered with the phrase "your first love should be yourself" — on her website King Sophie's World for 42 GBP, or around $55.20.
There are ways to feel special all on your own on days you can't get away with T-shirts, too. Pick up that gold Bagatiba necklace you've been waiting for a special someone to gift you, or splurge on brands you can only find online (so you end up buying less often) like Glossier. Just wearing a necklace you've wanted forever or a subtle Cloud Paint shade only you notice can be all the reminder you need that you're number one.
Or, try something subtler that will end up making you happy in the long run, like the $65 Active Botanical Serum both Gwyneth Paltrow and Supergoop!'s founder and CEO Holly Thaggard endorse or a $38 jar of Moon Juice's Brain Dust. The powder claims to defog your brain — increasing clarity and focus while decreasing stress. If you're wondering if Brain Dust really works, just take a look at the reviews written for the wonder powder; it currently has 195 5-star reviews on Moon Juice's website.
Starting to get into the swing of things? Ahead, 16 Valentine's Day gifts just for you to enjoy, regardless of relationship status or any gift hints you may've already dropped.