Here's How To Nail The Wet-Hair Look That Every Celeb's Wearing Right Now
Pascal Le Segretain/Getty Images Entertainment/Getty Images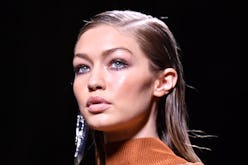 One highlight of the digital age — aside from being able to order a large fry and frosty from bed at 2 a.m. — is that it's easier than ever to stay privy to trends as soon as they come to be. Instead of waiting for the next issue of your favorite glossy to hit newsstands, a simple scroll through the 'Gram tells you what trends tastemakers are testing at the moment — and right now, the platform is saturated with one hairstyle celebrities can't get enough of: the wet-hair look. How to nail the undone style might seem like a big, ominous question mark, but it's not as tricky as you may think.
From runways to red carpets, the damp, tousled look has proven to be a favorite among trendsetters and hairstylists alike, with everyone from Zendaya to Rihanna taking the hairstyle for a spin. Kim Kardashian was dripping in rhinestones on the Met Gala 2019 red carpet, mimicking an image of Sophia Loren straight out of the ocean in Boy on a Dolphin. The super-slick look emulated, quite literally, a sopping wet scene, while other celebs have taken an understated approach to the texturized style.
Whether you're here for a swampy-chic moment or just want to dip your toes in the edgy, runway-approved trend, keep the tips below in your back pocket ahead of your styling session.
Slick Your Roots
One key factor to the grunge-inspired look is getting your roots in check. It won't read right if your roots appear dry, so make sure they're nice and damp ahead of applying product. If you're not actually stepping out of the shower, you can fake the wet-effect by spritzing hair liberally with a hydrating mist, or plain ol' H20.
Grab The Gel
A good hair gel is imperative for pulling this look off, but be sure to grab a non-sticky, ultra-shiny formula that offers flexibility while styling. Work gel through your hair from root to tip, and don't abandon your ends — you want strands to be consistently coated throughout.
Fake It 'Til You Make It
Celebrity hairstylist Bryce Scarlett is behind some of Margot Robbie's most stunning hair looks, and surprisingly, this beachy style didn't involve aqua at all. "I flat-ironed over one-inch braids and then used a ton of Moroccanoil Luminous Silk Hairspray to give that wet look," Scarlett shared, revealing an unexpected technique for achieving that just-got-done-surfing vibe.
Play With Pomade
When it comes to this look, you're going to want to channel your inner greaser or punk-rock band member to nail the aesthetic perfectly. Sneaking into any man in your life's medicine cabinet isn't off the table, because that pliable, strong-hold formula is exactly what you want, especially when creating shapes like Rosie Huntington-Whiteley's structured coif.
Amp Up The Shine
Your hair is going to dry out over the course of the day, so don't sleep on serums and oils to keep the reflective quality alive. Once all of your slicking and holding agents are set, you'll want to give your strands a healthy dose of shine by spritzing with oil or applying a sheeny serum throughout.
Toy With Texture
The last thing you want is stiff, crunchy-looking strands, so be sure to shake things up with your hands at the end of the styling process. Unless you're going for a super slicked-back look, tousle your hair with your fingers, separating your ends and amping up the volume a bit.