20 New Products To Give You Strong & Healthy Summer Hair
CHRISTOPHE ARCHAMBAULT / Getty Images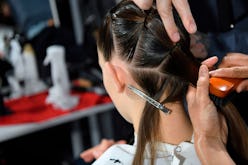 If you want longer, stronger hair, it's not a bad idea to find products that lend hydration and shine. But according to celebrity hairstylists like Sarah Potempa and Kiyah Wright, summer 2019's best hair products don't just focus on styling. Instead, so many of them place an emphasis on scalp health — which is why this season's newest releases offer intense hydrating benefits with ingredients like aloe vera and other plant-based ingredients.
Wright, who works with Mary J. Blige and Taraji P. Henson, confirms our suspicion that scalp health is priority, especially as the scalp is an essential aspect of hair care — it's where all new growth begins. Wright also notes that these products include hair proteins and are full of oils to hydrate the scalp — just in time to repair the damaging effects of heat and UV rays on your scalp this summer.
And Potempa, a celebrity hairstylist who works with Lea Michele, Camila Cabello, and Reese Witherspoon, tells TZR that salon stylists are also focusing on the overall health of hair by using cleaner products that strengthen the hair while styling, coloring, and treating. These products tend to be free from harmful components like parabens, sulfates, and benzophenone (ingredients known to damage the hair and interrupt hair growth).
Aside from scalp health and fresh ingredients trending this summer, easy braids are the name of the styling game this season. "This summer, the most popular trends are mixed, textured braids!" Potempa explains. "I especially love pancaked fishtails, braids pierced with rings or other hair accessories, and the use of extensions to add a pop of color!" Grab a braid balm to prep your hair before you start styling to make sure that strands stay in place, she notes.
For those with natural and textured hair, protective styles like faux locs will be the top protective style this summer, "because they are easy to maintain," Wright says.
Ahead, see 20 new summer hair products that will keep your scalp and strands healthy.