Heidi Klum's Engagement Ring Is Equal Parts Unique And Statement-Making
Emma McIntyre/Getty Images Entertainment/Getty Images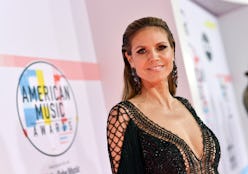 Nothing beats scrolling through the celebrity engagement ring archives, because, well, the baubles that are perched on the fingers of Hollywood's most fashionable are perhaps as dreamy and awe-inspiring as they get. But there's one dazzler, in particular, that's been on everyone's mind since it made its official Instagram debut on Christmas Eve last year. Enter, Heidi Klum's engagement ring — which might have just been the most jaw-dropping Christmas present the German model has ever received.
Much like celeb engagement rings, celeb engagement announcements are about as varied as they get. Some A-listers take a super low-key approach when making it known that they're going to be tying the knot — case in point: Rosie Huntington-Whiteley subtly revealed she said "yes" during the 2016 Golden Globe Awards, when she showed up on the red carpet with a stunning dazzler on her finger — while others nearly break the Internet with über cute announcements that typically tend to pop up on Instagram.
Klum is one notable name who likely made you stop mid-scroll back in Dec. 2018, when a beautiful black-and-white selfie of her and her now-husband, Tom Kaulitz, appeared on your feed. The supermodel and the 30-year-old German guitarist can be seen grinning from ear-to-ear, but the one jaw-dropping detail that was the star of the photo? Klum's massive three-stone engagement ring that's not only incredibly stunning, but also quite unique.
"Heidi's unique three-stone yellow gold ring features an estimated 3 to 4.5-carat cushion-cut teal sapphire surrounded by a diamond halo and accented on each side by cushion-cut diamonds," Kathryn Money, vice president of strategy and merchandising at Brilliant Earth, shares with The Zoe Report over email. "The distinct design of this ring aligns perfectly with Heidi's individual sense of style and penchant for making a statement," she adds.
As for the ring's value? Money estimates it to cost somewhere between $20,000 to $30,000, "depending on the quality and specific characteristics of the center gemstone."
There's been a steady uptick in brides opting for unconventional engagement rings, with plenty of celeb baubles contributing to the spike, but according to Money, there's one facet that make Klum's particularly appealing and sought after: the sapphire gemstone.
"Dazzling color and lustrous beauty make sapphires a gorgeous choice for an engagement ring," Money shares, before going on to highlight a recent survey conducted by Brilliant Earth that revealed that "1 in 5 adults would prefer an engagement ring featuring a sapphire or other colored gemstone."
Money also explains that fancy-shaped or non-round gemstones, as well as three-stone styles, continue to rise in popularity, with both celebs and royalty alike getting in on these two of-the-moment jewelry trends.
So, if you're not afraid to make a statement, consider opting for an engagement ring like Klum's. Ahead, The Zoe Report's favorite rings inspired by the German model's unique sparkler.
Shop The Look