This Is What Makes Kate Middleton & Meghan Markle's Engagement Rings So Different
Stephen Pond/Getty Images Entertainment/Getty Images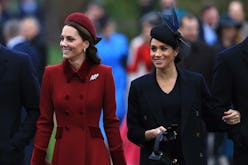 Considering their royal wardrobes are inherently different, it comes as no surprise that Kate Middleton and Meghan Markle's engagement rings look nothing alike. But however different they may be, the duchess' baubles are just as relevant today as when they made their official debuts, and they've continued to spark engagement ring trends season after season. That's why The Zoe Report went to a jewelry expert to figure out what exactly sets the duchess' rings apart.
"Kate Middleton's gorgeous engagement ring features a deep-blue sapphire surrounded by a halo of diamond accents that are set on a platinum band," Kathryn Money, vice president of strategy and merchandising at Brilliant Earth shares with The Zoe Report over email, adding that this particular style suits Middleton's timeless and sophisticated taste to a T.
Middleton's engagement ring sparked a revival in colored gemstones when she first revealed it in 2010, but according to Money, the blue-sapphire diamond perched on the Duchess of Cambridge's finger has always been a prevalent pick among European royalty (including Princess Diana and Princess Anne).
"The irony in this 'trend,' however, is that engagement rings with vibrantly colored gems have been in vogue among European royal families for generations," Money says, "[which is] backed up by the fact that the ring was originally selected by Princess Diana in 1981, shortly after accepting Prince Charles' proposal."
That makes Middleton's engagement ring truly traditional, and, given its historical significance, invaluable, too. "It is priceless and virtually impossible for us to provide an accurate value estimate," Money shares.
Markle is known for her protocol-bending style, so it's only fitting that her engagement ring from Prince Harry isn't traditionally typical. Markle's engagement ring effortlessly blends old and new — in other words, it's a beautiful combination of the past and present.
"Prince Harry custom-designed Meghan's gorgeous ring, featuring a center cushion-cut diamond framed by two round diamonds from Princess Diana's personal collection," Money explains. "The stones are set on a timeless yellow-gold band, befitting for a princess while matching Meghan's chic yet relaxed style perfectly."
Perhaps the most significant (and distinctively unique) aspect of the Duchess of Sussex's bauble is the center diamond, which actually comes from Botswana and acts as a symbol of "Prince Harry and Meghan's shared commitment to social and environmental responsibility," Money explains.
Much like Middleton's, Markle's ring is also invaluable because of its use of royal heirlooms that make it "truly priceless with unmatched cultural significance."
Whether your personal style is more like Middleton or Markle's, the market is flooded with stunning engagement rings that channel the duchess' picks. Ahead, The Zoe Report rounds up the prettiest, royal-inspired engagement rings of the moment — all of which are in stock and ready to shop now.
Shop The Look