Goop's Newest Store Takes The Traditional Hotel Gift Shop Concept To Chic New Heights
Adrian Gaut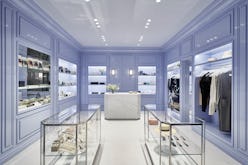 Leave it to Gwyneth Paltrow to take something as benign as a hotel gift shop and make it a chic, aspirational, perfectly curated experience for the senses. Paltrow's lifestyle brand Goop celebrated the opening of Goop Sundries, the company's first-ever hotel retail experience, which is now open at the Rosewood Miramar Beach in Montecito, California (yes, the place Big Little Lies is based), and it's everything you would imagine a gift shop as seen through the lens of GP and Goop would be. There are clean beauty products, healthy snacks, clothes, jewelry and all the things you may need (and might forget) while on vacation, including books, medicine, kids' games, pool toys and — um — toys of a sexual nature (blush).
Not only is Goop Sundries stocked with an aesthetically pleasing range of goodies, it also has the traveler in mind. Forget your socks? Suddenly in need of lingerie? That's what the "Goops I Forgot" area of the boutique is for. It can be filed under the "thought of everything" category. Even the Rosewood Miramar rooms have been Goopified thanks to an assortment of Goop-curated items—including super-powders and the G.Tox Travel Kit — in the mini bar.
Thinking of making a trip to Montecito? Ahead, the must-have best purchases in the Goop Sundries store to give you a preview of what you can expect on your next getaway. Now, all that's left to do is plan a trip.
Vacation Necessities
There are certain things everyone needs on a vacation: a good book, the perfect sandal, a fab pair of sunnies. Not psyched about what's in your suitcase? Not to worry. Goop Sundries carries a selection of airy dresses and cover-ups (Three Graces, Natalie Martin, G.Label), beach totes, sandals (Birkenstocks, Emme Parsons), towels, and even swimsuits (G. Label Swim), ensuring your getaway will be as chic as possible. There is also a tightly edited selection of books, poolside games, tech accessories and even water toys.
Jewelry
Every vacation deserves a souvenir so why not make yours a little, well, indulgent. Goop Sundries carries a truly stunning array of fine jewelry, from Jennifer Meyer, Hoorsenbuh, and Sophie Ratner to vacation-ready watches from La Californienne. Treat yourself, or make sure that special someone you're sharing your room with knows sparkly baubles make all vacations that much better.
Snacks
Any good hotel store has snacks, but the Goop hotel store steps it up with its selection of healthy snacks and drinks. Grab a Topo Chico, coconut water, matcha or Stumptown Cold Brew to sip on. And if you're hungry or need a poolside bite, there's a range of snacks, including sea-salt popcorn, veggie chips, dark-chocolate coconut clusters, peeled dried mango snacks and trail mix. Talk about a step up from Diet Coke and Doritos.
Pharmacy
Whatever ache, pain, or allergy might be ailing you and attempting to sour your vacation can be combatted at the Goop Pharmacy. Whether it's Advil, Band-Aids, or Benadryl you're looking for or simply contact solution, earplugs, or throat drops, everything you need is on hand to keep your getaway on track. Your tummy hurts? No problem. Eye watering with unexpected allergies? They've got that covered, too. Not only does Goop Sundries aim to make your trip as chic as possible, it also wants to make sure it doesn't get derailed by an unforeseen sickness.
Beauty & Wellness Apothecary
When it comes to Goop, one would expect nothing less than a fully stocked clean beauty apothecary. To wit, the Sundries shop is filled with products you need, want, may have forgotten, or didn't even realize you should be using. In addition to Goop Beauty, there are products from Tata Harper, Ursa Major, Vintner's Daughter and Beautycounter, including sunscreen, face oils, serums, cleansers, and more. Want to luxuriate in a bath in your hotel room? Grab the Goop Martini Bath Soak and really lean into your vacation. On the wellness front, there are Goop dietary supplements, and accessories for sexual wellness as well. They even come in a variety of shapes and pastel shades. That settles it: This is definitely not your grandma's hotel gift shop.