The Delicious Trader Joe Snack You Can Keep In Your Purse To Avoid Getting "Hangry"
@traderjoes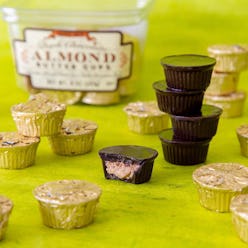 The beloved affordable grocery store continues to be a go-to for good reason: Not only does it stock all your necessities, it also manages to offer a ton of items you never even knew you needed. And while it's tough for most people to pinpoint the exact category they love shopping for there the most, it's safe to say that Trader Joe's snacks are always a hot commodity.
Sure, TJ's is clutch for scoring shockingly good beauty products for those on a budget, as well as quick and easy dinner solutions and freezer section essentials for those days you just don't feel like cooking, but the snack situation is not to be overlooked by shoppers — and one main reason is the fact that there always seems to be something new to tempt your tastebuds besides the tried-and-true favorites. And what's even better, you can find a ton of healthy options, too. From raw almonds to veggie-infused crackers, there's a little something for everyone with every type of hunger pang.
That said, if you're looking to stock up for your next road trip, something to nosh on while you watch your favorite shows, or anything in between, the 20 snacks ahead are so tasty, they might just put your meals to shame.