The Playful Jewelry Trend Instagram Pros Are Packing For Vacation
Courtesy Net-a-Porter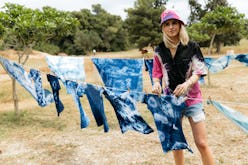 High summer is fast approaching, which means that if your getaways aren't yet booked, they will be soon. Summer travel is the kind that, while relaxing, does take a little bit of foresight to coordinate. If you're headed to Paris or Rome, you'll need to plan on logging at least a few miles a day — which means comfortable clothing is a must. Headed to the beaches of the Bahamas? You'll want to make sure you have a breezy party dress on hand. But, no matter your destination, there are a few key summer packing list essentials you'll want to make sure make it in your carry on.
Influencers Nicole Warne and Caroline Daur recently made their way to Greece, where they spent three days posted up at the Amanzoe resort with Net-a-Porter. As constant travelers, both women have not only mastered the art of narrowing down their gear to just the essentials, but have also managed to hone in on trends that make major impact with minimal effort (and minimal packing space). Below, the duo share the three key categories they're taking along on their travels this summer. Their picks of sandals, jewelry, and beach essentials will style easily with your go-to ready to wear, and will also ensure that you pull off your best dressed summer to date without having to stress. Read on for their picks.
Chic Sandals
If flip-flops are your go-to during summer, here's some good news: There are plenty of elevated iterations popping up this summer. "Gianvito Rossi Leather flip flops are my absolute favorite for summer," explains Daur. "The quality is excellent, the leather is like butter." A leather iteration, especially one with a slight kitten heel, take a casual, beachy style into evening territory.
But, if you're looking for a flat sandal that skews a bit more minimalist, another major sandal trend this summer is the refined gladiator. "I recently discovered Emme Parsons and instantly fell in love with her sandals," Warne notes. "They're minimal, modern and super chic. I love how they add a touch of sophistication to elevate my vacation looks."
Summery Jewelry
Pearls have become a major trend for summer, and Warne has chosen to invest in the quirkier iterations currently in production. "I've fallen back in love with the pearl trend, although I don't feel it's a trend as they make such classic accessories," she explains. "I have raw pearl necklaces by Pacharee and Australian designer Albus Lumen, which I love layering together. Because they're raw pearls they feel modern and youthful, so I tend to stick to the more is more rule and stack my pearl bracelets and rings with my other gold pieces for a fresh summer look."
Daur also zeroes in on non-traditional pearl jewelry as being a major trend for summer, but she adds that for the warmer months, consider adding mixed metals or a pop of color into the equation. "I usually wear golden jewelry, but these days, crazy as I am, I mix a little bit of silver in it," she says. "For summer I love to wear fun jewelry, I like to mix pearls and colors." To pull off this colorful, creative look you can turn to brands like Eliou and Fry Powers that are offering bold designs that mix materials, or you can layer your traditional pearls with pieces from brands like Roxanne Assoulin.
Beach Staples
No summer vacation is complete without a little time spent lounging in the sunshine — whether it be near a pool or ocean (or heck, even just a hot tub). "I always bring my strapless bikini," Daur notes, highlighting the two-piece's versatility. "It's just perfect for tanning without lines and super easy to put on and off." Consider layering a bandeau top under a sheer gown for a fresh evening look.
In addition to a simple swimsuit, other key beach staples include practical-meets-chic items like sunglasses, a hat, and a simple cover-up. "I'm Australian so I take my sun safety very seriously," Warne explains, adding that she always packs a hat for her travels. "The wider the brim, the better — I love a hat that protects my entire shoulders. Maison Michel is my go-to."