The New Sunglasses Trend Everyone Will Be Wearing This Summer
Grosescu Alberto Mihai/Shutterstock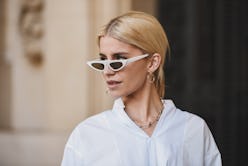 The unofficial start of summer is merely weeks away, and that means beach vacations, backyard barbecues, and all other manners of fun in the sun. No accessory is more essential as the days get longer than a stylish pair of sunglasses — a must for blocking those harsh rays and for pulling together an outfit. A new pair of shades is an easy way to update even the most basic look and make it feel of-the-moment. The sunglasses trends for summer 2019 are broadening beyond the tiny frames and futuristic shields that reigned supreme last year. Sure, these popular styles are still in play — they've been revamped with fresh details — but others like oversized butterfly sunnies, cool colorways, and unconventional shapes are on the rise.
"The two newest trends that will be vibing this summer are neon highlights — which is a really fun way to add color into any outfit — and slightly sporty looks, whether it is wraparound frames, or even just a sporty detail," forecasts Le Specs creative director Hamish Tame. The Australian eyewear brand has a cult following of celebrities and fashion girls for its trendsetting styles and coveted collaborations. (Le Specs highly sought-after The Last Lolita style from its popular range with Adam Selman is nothing short of iconic.) This summer, Tame highlights a few new favorites to try: "Electricool for a new metal update on the micro-shade trend; Meteor Amour if you are after something glam, with a hint of grunge; Body Bumpin if you are looking for something a little more nineties and wraparound."
Before the first heatwave hits, get your eyewear game on lock and shop the below lineup of key trends for summer.
Modern Cat-Eyes
Current collections showcase new riffs on the classic cat-eye, from half-top frames to exaggerated points, micro styles, and thin wire rims.
Oversized '80s Frames
Think more Golden Girls than Jackie O. This look is reminiscent of granny's oversized acetate frames from the 1980s — bifocal lenses not required.
Color Coordination
This summer, sunglasses are as much about color play as they are about blocking rays. See the world through a saturated spectrum of lenses coordinated to match their frames.
Slim Shady
Picking up where '90s micro-shades left off, this style shifts a bit more into the early aughts trends with a futuristic techie vibe.
Polygonal Lenses
Break out of the standard square and round molds in favor of unconventional shapes like hexagons, octagons, and other multi-sided showstoppers.
Basic With Bling
Whether you're rocking cat-eyes or '70s-inspired sunnies, it's all about the addition of sunglasses chain this season. Choose a style that complements your frames for the ultimate summer accessory combo and a surefire way to never lose your shades again.
Sporty Shields
Embrace summer's active vibes (whether you plan to be active or not) with a pair of cool, shield sunglasses featuring sporty elements liked mirrored lenses or performance-inspired details.
Embellished Bling
For anyone who uses sunglasses as a vehicle for glamour, a pair of crystal-studded, chain-adorned, or otherwise embellished shades will be your holy grail this summer.
Summer Brights
Apply the popular neon trend to your eyewear choices. Go for bold brights and splashy hues that feel suited to the season's heat.
Bold Rectangles
Not too tall or oversized, the key to this rectangular style is finding a pair with a nice, chunky plastic frame that protrudes beyond the edge of the lens a bit.