I Went Into Business With A Person I Just Started Dating — And It Was The Best Decision Ever
Christian Vierig/Getty Images Entertainment/Getty Images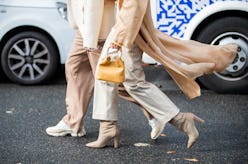 As most entrepreneurs know, starting a business is not exactly a linear, uniform process. In fact, most will find it to be laden with forks in the road and unexpected turns. No one understands this more than Teressa Foglia, founder and CEO of her namesake custom hat-making company. As if her accidental foray into the fashion business wasn't surprising enough, the social-media-expert-turned-designer also found herself going into business with her partner — whom she just started dating.
Flying by the seat of one's pants is not exactly a new concept to the free-spirited Foglia. Although a hat lover for most of her life, the Troy, New York native had no previous background in fashion design or hat-making (her career prior was digital-focused). During a spontaneous post-breakup jaunt to Europe, she happened to take a millinery course in the South of France and, three days later, she was in the studio apprenticing for a renowned milliner from London. "It was very serendipitous," says Foglia to The Zoe Report. "It was all for fun with no expectations. It was just a creative outlet for me, but I realized it was the first time I felt truly fulfilled."
Upon returning to the States, Foglia (who was technically living in Los Angeles at the time) immediately went on the hunt for a studio, choosing NYC to launch her passion project. "The same day I was approved for a studio space, I became friends with Tyler," recounts the CEO, referring to her now-boyfriend and Teressa Foglia Creative Director Tyler Hays Wild.
As it turns out, the two met in the most millennial fashion ever: Instagram. After hearing about Foglia's newfound side-hustle, a mutual friend connected the two on social media, thinking they would hit it off over their mutual love of hats. Hit it off they did. With an extensive background in fashion design and art, Hays Wild proved to be a great resource for Foglia, who was in the process of getting her business off the ground. "In a matter of months, we were Insta friends and he was helping me find sewing machines," she explains.
The rest as they say, is history. After a few more months of social media correspondence that culminated in a spontaneous three-week trip to Europe (where they had their first official date in Barcelona), the couple set down roots in New York — and in the newly opened Teressa Foglia studio, where the brand was already starting to make a name for itself. Hays Wild made himself right at home in the production and creative process, finding the business a worthy outlet for his creativity. From lighting hats on fire for a charred, distressed effect to adding feather accents and stitch detailing, his imagination truly took flight, expanding on Foglia's original designs in an organic and interesting way. "He's so amazing at color stories," says Foglia. "He just adds a million things to the hats. He 100 percent changed everything about the business I had just started."
Together, the duo developed and grew Foglia's vision: a zero-waste, custom millinery that specializes in uniquely adorned hats. Each piece feels (and is) one-of-a-kind thanks to the custom detailing described above, vibrant color ways and textures, globally sourced vintage trimmings and materials. With two established studios in NYC and Malibu, California, Foglia's hat-making journey is certainly in full force, and her beau of a year is along for the ride. "Since June of last year, our business has really grown exponentially — we're up 1,050% from last year," says Foglia.
So how exactly does one juggle both a new love and a new professional venture? Ahead, read how the young entrepreneur and her creative director beau make both the business and their relationship work in perfect harmony.
The Zoe Report: How has Tyler [Hays Wild's] presence in your life and in your company impacted the brand as a whole?
Teressa Foglia: He changed everything — I'm so open to saying that to everyone. From December of 2017 to July of 2018 when he came in, I was trying to be two people — and I wasn't. He's freed up so much from my plate so I have more time to do market research and redevelop our suppliers and supply chain. He also expanded our design offering from a very clean, New York-like, minimalist aesthetic to a more rugged, distressed, beautiful look that is very Californian.
TZR: In essence, you are balancing both a new business and a fairly new relationship at the same time. Has it been difficult to compartmentalize the two?
TF: It's actually been really fun and effortless. You get to go to the studio with your best friend every day, work on fun projects together, and hang out with your friends afterward. We're both just so in love with what we're doing, the community in which we're able to do it in, and the people we get to work with.
TZR: How do you two handle conflict in both professional and personal settings?
TF: He won't let me fight with him even if he wants to or I want to. He's like the chiller of the relationship. Also, I'm definitely one to bring things to the surface and immediately ask, 'What's going on? Talk to me.' Never do we walk away from a situation or go to bed on a bad note.
TZR: You two are together 24/7. Do you ever need space? If so, how do you ensure you take it?
TF: I love my girl time, so that's how I get that 'me time' in. I'll do a yoga class with girlfriends or a night out. Also, having a separate studio and home base, we're each able to spend time apart if we want it. When we're in LA, Tyler loves going on morning runs and stand-up paddle. I love my yoga, so we'll separate for our morning routines. In the evenings, I'll often be on my computer working on admin stuff for the business, and Tyler loves to draw, so we definitely feel free to do our own thing.
TZR: What are some ways you make sure you two stay connected as a couple?
TF: I think more than anything, even more important than not discussing work, is getting off your phone and unplugging. At the most recent Burning Man Festival we attended together, we didn't have our phones throughout the week and it really changed our dynamic. I am so connected to my phone because I run all of the business' social media and customer service — I'm so guilty of being on the phone in bed at night! Getting off the devices and focusing on your time together is really important. Also, physical contact is key. Find time to hug and be intimate, especially in stressful or busy times. It just kind of reminds you like, 'Oh, right, that's why I love you.'