The Crucial Thing You Need To Work Peacefully With Your Partner
Erik Pendzich/Shutterstock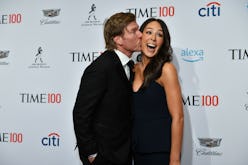 Relationships are hard enough to deal with on their own. But, when you throw your job into the mix, it can get even trickier. So how do couples who work together actually do it? Is there a secret to sustaining the integrity of your relationship and your career when your partner is your colleague?
According to therapists, the answer is yes … kind of. "A lot of people are in this work/relationship boat, and it's not easy," says Dr. Yvonne Thomas, PhD, a Los-Angeles based psychologist whose specialties include couples and careers. "Many have trouble separating the business relationship —putting away that professional side at the end of the day and focusing on the romantic side. The ideal balance can be reached, but it's not necessarily going to be perfect."
Dr. Thomas explains that in addition to "normal" relationship obstacles — family, personality conflicts, communication, etc. — couples who work together now also have to tackle an office environment together and all that comes with it. "Now, you've got work stress to deal with," she explains. "Maybe one day you come home in a bad mood but the overhang of your tension is there. Maybe one partner is doing better at work than the other. There are many reasons to be unhappy at the workplace and the overhang of your feelings can impact your quality time as a couple as well as the romantic/intimate component."
In fact, if you're not intentional about finding some sort of healthy work/love balance, it could mean the eventual destruction of your career, relationship, or both. So what does it look like when you actually do it right? To get a glimpse of navigating work and love with your partner successfully, ahead Dr. Thomas and a few real-life partners in business and in life were tapped to offer tips on how to do your 9-5 as a unit — and stay together.
Tip #1: Have "Me" Time
Since 2016, business partners and real-life partners Matthew Herman and David Kien have worked hard at nurturing their rapidly growing candle-making and intimates company Boy Smells. According to Herman, one of the keys to navigating a new business and a romantic relationship actually involves quality time alone. "It's important to allow each other space to have your own identities," says Herman. "We have separate hobbies, we make sure to have solo dinners with our friends, yoga, etc." Kien agrees, adding, "It's critical to have that me-time when so much of your work and home life is co-lived with your partner."
This tip also happens to be therapist-approved. "You can't be tied to each other's hips," says Dr. Thomas. "Everybody needs a break and a time to chill out so you don't feel smothered or suffocated by your partner. Maybe that means you take half an hour to yourself before or after you come together after work."
Tip #2: Don't Talk Shop Off-The-Clock
Dr. Thomas explains one of the biggest dilemmas that can come from working with a partner is that the focus is always on work, even when you're off the clock. If possible, the psychologist suggests making a concerted effort to leave business at the office when you're spending quality time together. "I think it's important to create a boundary with yourself and your partner," says the psychologist. "Say, 'Hey, we're home now, this is about us.'" I sometimes suggest that couples use a trigger word when they want to shift the conversation so it's not work-related."
The relationship guru explains the use of said "trigger word" can be a gentle way to express how you feel about the direction of your quality time without hurting the other person's feelings. "Words like 'home' or 'us' are great options as they bring up thoughts of something sweet," she says.
Tip #3: Approach Conflict With Mutual Respect
Like you would any other disagreement, any work conflict between you and your partner should be approached with respect. "Being at the service of the idea rather than mutual ego pumping is key," says Emmanuel Rey of YUNI, a natural beauty care brand. (The yogi and businessman co-founded the wellness-centered brand with his wife Suzanne Rey, who is currently not part of the day-to-day operations.) "Be comfortable with each other's feedback and don't take it like judgement. Feel the freedom of being who you are and seeing the brilliance or bull***, and knowing that acknowledging both is OK. Accept each other's expertise and skills and build on them together."
When it comes to business disagreements, the husband and wife duo behind Swedish coastal skincare brand La Bruket, say they like to settle things around the dinner table as family. "We have equal mandate, which challenges us to view problems from different angles, to compromise but be firm when needed and to be constructive when discussing," say Mats Johansson and Monica Kylén in a joint statement to The Zoe Report. "However, it is important to agree on decisions in the end otherwise they will/could become a source for later disputes. We always need to reach an agreement somehow."
Tip #4: Make Time For Quality Time
This goes without saying, but prioritizing time with your significant other in the midst of the general hectic nature of life is important. This is doubly important when you work together, as much of your time is spent at or involving work. Date nights, vacations, and simple quiet moments together should be non-negotiables. "We make sure to have date nights and get out of town together," says Kien. "Travelling is our way to just leave everything behind."
Johansson and Kylén second the notion of prioritizing travel as a couple — even if it's work-related. "Make sure to move outside your comfort zone, experience things together in relation to the company," the duo says. "Discussing new-found insights and coming to conclusions together have been the most successful dimensions of our team work."