Creativity Slump? Follow These Expert-Approved Steps Will Get You Out Of Your Rut
Grosescu Alberto Mihai/Shutterstock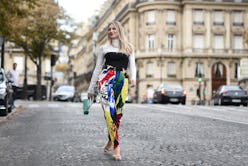 Some people are fortunate enough to have jobs that allow them to utilize their creativity. Then there are those who look for other outlets: Journaling, sketching, taking a dance class, or otherwise undertaking a practice that allows them to express themselves in a new and different way. Regardless of which category you find yourself in, slumps are bound to happen — and when they do, you might be surprised at how it can leave you feeling frustrated, unmotivated, and generally uninspired overall. But thankfully, there are ways to get out of a creative rut that might be more accessible — and even more enjoyable — than you think.
If you are someone who counts on your creativity to get your job done — whether in your full-time work or your side hustle — you know what a hit it can be to your productivity when you find you're all tapped out. But besides the work you do, stressors like your personal relationships, finances, and other responsibilities can really put a damper on your ability to tap into your imagination. And if your creative outlet exists outside your career, it's even easier to let it fall by the wayside when you're stressed or overwhelmed with other things going on in your life.
In either case, creativity doesn't have to seem like a luxury. Actually, it may be essential to maintaining a happy, healthy state of mind. Think of it like going to the gym: Your imagination needs exercise, too. Ask some of the most successful entrepreneurs and they'll tell you that staying inspired is a daily practice — and an important one at that. And because of that, many of them have accumulated some go-to tips for getting out of a creative rut.
Case in point: Sonja Rasula, founder of Unique Markets pop-up marketplace and podcaster, and Puno, creative entrepreneur and founder of ilovecreatives. As women who are frequently juggling multiple creative projects at once, they've developed a special skill set for the time when slumps hit hard. Anxious to know their secrets? Read ahead for eight tried-and-true ways these two get back in the creativity game.
Get Off Your Phone
Distractions are bound to happen. And while you don't always have control over some of them, if you're someone who finds yourself mindlessly tethered to your phone, Rasula has some advice: Put the thing down. "Oftentimes, we can find ourselves too tied to our devices, which tends to show us the same types of things over and over due to ever-evolving algorithms," she says. "In order to see new things and generate real creativity, I encourage you to get off and get outside (yes, without your phone)!"
Check Out Some Art
Rasula, who's constantly either planning for her next pop-up marketplace (after all, the holidays are just around the corner) or working on her latest podcast, still tries to squeeze in time to get inspired. And one of her go-to ways is by heading to a nearby art museum or gallery. "Get inspired by the masters and observe new pieces of art or history that you wouldn't normally see," she says. "I personally always enjoy browsing the gift shop, which also has lots to spark inspiration!"
Try Something New
"If you're stuck in a creative rut, chances are the daily activities you partake in and your physical life could be part of the problem," explains Rasula. So what can you do? Switch up your routine (even the time you typically work out or your daily coffee order), or better yet, introduce a new hobby. "I've found that trying new, artistic outlets always teaches me to slow down, learn something new, and let off some steam," she says. "If you feel tired after a long day of work, try water coloring or crocheting, anything that will give you a creative channel after a long day!"
Be Patient With Yourself
It's easy to get down on yourself when you're feeling creatively tapped out. During those times, Puno suggests reminding yourself of what she calls "the skill gap," and letting yourself off the hook a little. "Whenever you're learning a fresh new skill or trying out a new creative project, chances are your skill level is nowhere near what you want it to be," she says. "This is a super frustrating period, but that's ok! They call this the skill gap. As you work, this skill gap will slowly close, but remember this is part of the process and it's where the magic really happens."
Try An Affirmation
Puno suggests an affirmation, or what she calls a "super productive word," when she's feeling down on herself, uninspired, or unmotivated. "I have a super productive word that snaps me out of inactivity: Militant," she shares. "I say it in a funny voice, but it works for me!" Brainstorm your own version that can snap you out of a rut and remind you of your intentions.
Share What You're Working On
Besides being a forum for classifieds geared towards creatives, Puno's ilovecreatives also offers courses that could can help sharpen your skills. And a cornerstone of its Squarespace Design Course is something she called 'Feedback Fridays,' a time when students and teacher's assistants share their progress. This allows for accountability, which is something she feels strongly helps to staying on task. "It's so important to show your work often," she explains. "Whenever I feel like I'm spiraling, even if I'm not ready, I show it to someone in my field and it always puts me at ease."
Surround Yourself With Those That Inspire
Don't have a team to share your work with? Maybe it's time to make some new and inspiring friends — specifically those that have similar creative goals and interests. "Find a local artist, business owner, or creative and ask questions," suggests Rasula. "Listen to the ways that they feel creative and generate ideas off of their energy and imagination."
And Puno agrees. "Spending time with creatives who get what you're trying to do really brings momentum to your process," she says. "We have a digital co-working session called Super Productive Time where the community is super open with their struggles and triumphs; by the end everyone is your BFF."
Keep A List
Lists aren't just great for setting goals, they can also help you feel more organized and accomplished. One way to utilize lists, as suggested by Rasula, is compiling the things you want to do or try to stay inspired. When you check them off, it'll feel so satisfying.
Puno also uses lists as a means of keep track of your accomplishments. "Sometimes you forget about all the great things you've already done," she says. "Do a project inventory: Write down all the projects you worked on this past year, and mark which projects were personally fulfilling, which weren't, and which brought you more work — those are your 'rainbows.' You can see all the cute symbols we used in my vlog."