The Unlikely Spring Trend That All Stylish Women Are Wearing
@alyssainthecity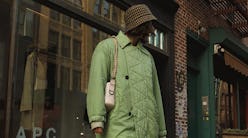 A bucket hat is the kind of polarizing accessory that falls under the same category of belt bags and tiny cat-eye sunglasses. They look cool, it's hard to deny that. But, opinions are often split when it comes to whether or not one can actually pull the look off. This is typically where the courageous fashion guinea pigs immediately lean in. Stylish, daring women are willing to experiment with the splashy and adventurous — take said bucket hat trend for example — so others can decide whether or not they are ready to take the plunge. (Bless fashion guinea pigs.) Keeping all of that in mind, here's a little backstory on the bucket hat.
Depending on when you were born and your cultural references of choice, you may think of a few different moments that defined the bucket hat. Gilligan's Island is a big one. The 1960s sitcom's clumsy namesake is iconic for his tomato red sweater and white floppy bucket hat. Fast forward a little over a decade, and the bucket hat reappeared in a slightly suaver context. Hip hop stars like Run-D.M.C. adopted the hat (most commonly Kangol) into the genre's uniform and it continued on well into the '90s, with big names like LL Cool J wearing the hat alongside gold chains and Adidas tracksuits. Fast forward to 2019 and it seems the bucket hat is undergoing another revival of sorts. The aesthetic is definitely suited for the street style set; bright colors and patterns mashed with eye-catching prints and textures to create an outfit that feels slightly irreverent but also just plain fun. Who knows how long the bucket hat will stick around this time but if the women below continue to come up with splashy ways to accessorize with it, it stands to have another good run.
Ahead, lively looks from street style favorites like Susie Bubble, Paloma Elsesser, and more that show just how easy it is to wear a bucket hat. Check out the 'fits and shop your way to a more exciting wardrobe.
A bucket hat is a great excuse to play with proportions. Wear yours with a boxy coat and straight-leg jeans for a quick-and-easy outfit that still feels slightly unexpected. Finish off with heeled boots to add a little height and a structured bag to give the look some extra polish.
It can be easy to forget how much of a diffference wearing prints can make. Grab a bucket hat in a fun pattern, like camo, to add personality to your next outfit. If that feels too loud for you snag one in a simple green hue — it'll go with everything.
Mixing prints is a bold trend that's definitely worth trying out. Consider a zig-zag bucket hat (Prada does a great one) worn with a cow-print jacket. Sounds wild but it looks quite cool, as witnessed above.
If you tend to go for wardrobe staples like trench coats and blue jeans, add in a bucket hat to give your look a street-approved update.
An accessory like the bucket hat has the ability to instantly transform a look. Just imagine if the look above was just the printed dress and boots— wouldn't be quite as eye-catching, right?
If you're tired of your beanies and trapper hats, swap in a bucket hat, though it's not a traditional winter pick, it will keep your head warm regardless.
Since a graphic bucket hat is nothing short of eye-catching, try keeping the rest of your ensemble (and especially your accessories) simple.
Wearing multiple trends and looking low-key is no easy feat, but the look above illustrates just how to pull it off. Bucket hat plus iridescent fabric plus chunky sneakers is a winning combination.
Fan of the canadian tuxedo? Add a little contrast with a bucket hat. Some neon sneakers won't hurt, either.
Tie in a color by snagging a bucket hat in the same hue; a refreshing take on the monochrome trend.