Glow Recipe Just Introduced A New Serum To Help You Get In On The Glass Skin Trend
Glow Recipe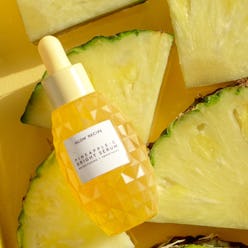 Recently, a certain skin trend has been making some serious waves. It seems like nearly everybody is after the glass skin look, and willing to try just about anything in order to achieve an incredibly dewy, translucent-looking complexion. It sounds like a lot of work to conjure up skin that looks like glass, but what if someone told you it was possible to get it in a single step? With Glow Recipe's Pineapple-C Bright Serum it's entirely possible, so if you've been thinking about trying the trend, now's officially the time to do it.
On April 5, cult-fave beauty line Glow Recipe dropped its latest product, and there's already no doubt it's going to make a splash. That's because the just-launched Pineapple-C Bright Serum, $49, promises to help you get the glass skin look that beauty buffs everywhere have been talking about — and with a one-and-done application of a couple drops applied morning and night. If the K-beauty translucent skin trend previously appeared too tedious for you (who has time for all those steps?), you'll be happy to know there's now an easier way.
Wondering how it works? Glow Recipe's new serum is effective enough to replace a multi-step glass skin routine because it harnesses the power of everyone's favorite tropical fruit, the pineapple. The sweet, juicy fruit — which you'll certainly be able to smell in this new launch — is one of nature's most powerful forms of vitamin C, and this serum contains a whopping 22 percent of it.
But that's not all. While the pineapple's effective punch of vitamin C and antioxidants works to protect and strengthen your skin's response to environmental stressors (no more red, angry spots), the fruit's high levels of natural AHAs and bromelain enzymes gently resurface your skin. With this natural exfoliation, you'll quickly start to see a reduction in dark spots, scarring, and hyperpigmentation, meaning you're one step closer to glossy, glass-like skin.
A dose of hyaluronic acid and skin-soothing chamomile and aloe smooth, condition, and plump your skin to really pump up the dewy look, and gives the serum a bouncy, silky, non-sticky feel that absorbs fast.
Use the Glow Recipe serum twice daily, in the morning and evening after cleansing and ahead of moisturizer. Dispense a couple drops into your palm and pat into your skin until absorbed — it won't take long, your skin will drink this sweet treatment right up.
Below, snag a bottle of the just-dropped pineapple serum from Glow Recipe's site and get ready for glowing skin like never before.