BeautyStat's New Vitamin C Serum Can Last For Up To Two Years — Here's Why
Vittorio Zunino Celotto/Getty Images Entertainment/Getty Images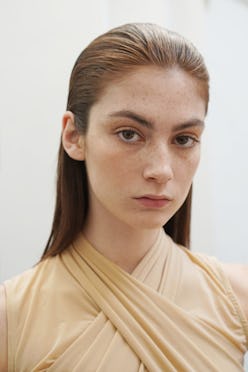 The phrase "too good to be true" was practically made to describe vitamin C skincare products. Yes, vitamin C is a powerful brightening agent known for fading acne scars, boosting collagen production, and contributing to overall glow… but on the other hand, the substance is notoriously unstable, breaks down in direct sunlight, and can cause some serious skin sensitivity. One cosmetic chemist saw the pros and cons of typical vitamin C serums and knew there had to be a way to deliver all the rewards with none of the risks — so he invented it, with the BeautyStat Universal C Skin Refiner.
"Dermatologists, chemists, and industry insiders are well aware that pure vitamin C is a proven and powerful skincare ingredient, but it oxidizes quickly over time and turns brown or orange, thus losing its efficacy," Ron Robinson, the cosmetic chemist behind the Universal C Skin Refiner, tells The Zoe Report. This isn't exactly a secret to consumers, either. Robinson observed customers tossing out their expensive vitamin C serums when they shifted color, and even refrigerating beauty products to preserve them. Yes, the rise of the skincare mini-fridge is all vitamin C's fault.
Of course, other brands have sought a solution to this particular problem before, often relying on a derivative of vitamin C, which Robinson says is more stable but not as pure. "In contrast, we found a way to encapsulate pure vitamin C, thus protecting it from oxidation so it remains stable and potent," he says. BeautyStat tested its Universal C Skin Refiner against competitors, and the results don't lie: Most pure vitamin C products oxidize and change color within months of opening, while BeautyStat's lasts for at least two years. (The brand's time lapse video of the vitamin C oxidation process is honestly fascinating.)
Robinson's encapsulation method is patented, too — meaning no other skincare companies on the market have access to this technology. In addition, Universal C Skin Refiner includes something called EGCG (a green tea extract that essentially super-charges vitamin C) and tartaric acid (which preps the skin for optimal C absorption). Ah, the benefits of being a beauty brand owner and a chemist.
"Our product is super stable in direct sunlight," Robinson adds — and since sunlight usually renders vitamin C useless, this is a big win against your usual C-laced serum. "It can make your skin more sensitive to the sun, so apply sunscreen immediately after using our product," he adds. Thanks to the inclusion of soothing squalane oil, the formula is safe for use on sensitive skin (another noteworthy differentiator); but since it does include a whopping 20 percent vitamin C, the cosmetic chemist recommends starting slow by applying it only at night. Eventually, you can work your way up to twice daily usage.
As for what rewards you'll reap from BeautyStat's incredibly effective serum? "It can even skin tone, fade discolorations, brighten, improve texture, and reduce the look of lines and wrinkles as well as firm and tighten the skin," Robinson tells TZR. In clinical studies, 90 percent of Universal C Skin Refiner users saw fewer fine lines and 100 percent reported more even skin tone. So basically, whatever issues you're dealing with — from acne scars to aging — this stuff will save your skin.
Shop BeautyStat