The Peach & Lily Serum That's Always Sold Out Is Finally Back In Stock
Peach & Lily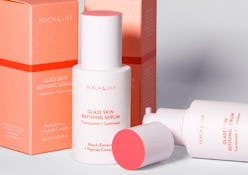 Shoppers have had a hard time getting their hands on Peach & Lily's Glass Skin Refining Serum since its release in 2018. The serum sold out almost immediately during its May pre-sale, and has remained teasingly elusive ever since, often going out of stock for weeks at a time. So, without further ado, you should probably know that the serum is currently back in stock, and still retails for only $39 per bottle.
While a mentality of "buy first, ask questions later" works for cult makeup product restocks, the waters are murkier for skincare. Just because a beauty product has been applauded by New York Magazine, Coveteur, and seemingly the entire beauty community doesn't always mean it's right for your skin. However, the Glass Skin Serum is formulated for all skin types — and it has a 4.8-star rating from almost 150 reviews that backs up its one-formula-fits-all promise.
The serum's name, as you may already have figured out, is derived from the K-beauty glass skin trend. While not a moisturizer, the Glass Skin Serum does hydrate your skin — in addition to firming, brightening, and calming it, a step that Peach & Lily notes in the product description is necessary to achieving the glass skin look.
To get all those results, the serum mixes extracts from peaches, yams, and the herb centella with a proprietary hyaluronic acid complex, a peptide complex, and niacinamide. Getting the right blend wasn't easy, either. The Glass Skin Serum is the result of over 200 test formulas, with 40 real life face tests conducted by its chemists along the way.
Although Peach & Lily breaks down what each extract and complex does to help your skin glow on its website, one ingredient from the serum's top six will probably will catch your eye; niacinamide, which popped up throughout 2018 in the ingredient lists of holy grail beauty and skincare products. Peach & Lily notes the Glass Skin Serum is made with 2 percent niacinamide, and that the antioxidant was added partly due to its ability to repair your skin's natural barrier.
But what exactly is niacinamide? Commonly known as nicotinamide, niacinamide's name makes it sound like a complicated chemical you'd find bubbling in a laboratory's glass vial — but really, the ingredient is simply a form of vitamin B3. When used in skincare, the vitamin treats hyperpigmentation and dark spots, reduces redness, and brightens your skin; a trio of results especially important for those fighting rosacea or acne. And, like Peach & Lily described, it also strengthens your face's barrier, which translates into less moisture lost.
All and all, it's easy to see why this serum can't stay in stock. Even Peach & Lily's own founder Alicia Yoon told TZR she uses the serum every day (and she has a lot of options to choose from). Try it out for yourself by snagging a bottle from the link below.