Everything You Need To Know About Dr. Dennis Gross' Powerful New Peel
Dr. Dennis Gross Skincare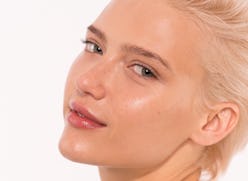 Ever get the feeling that you need a start fresh? Your skin certainly does, and when it comes to giving your complexion a complete overhaul, a peel is the way to go. While dropping into your dermatologists office is certainly one way to seek out radiant results, one upcoming launch is about to give you exactly what you need to get smoother, more luminous skin at home. The soon-to-drop Dr. Dennis Gross Clinical Grade Resurfacing Liquid Peel is almost here, and it's about to change the way you think about at-home skin care.
Mark your calendars for March 8, because you've got an appointment with Dr. Dennis Gross. That's the date that the legendary skin care brand's newest at-home treatment drops, and it's delivering pro dermatologist-level skin-perfecting action without stepping foot into a doctor's office. If you're already a fan of Dr. Gross' bestselling daily peel products, then the forthcoming Clinical Grade Resurfacing Liquid Peel should shoot straight to the top on your must-try list.
The brand wasn't messing around when it developed this new at-home liquid peel — in fact, it's actually the closest you can get to Dr. Gross' Professional Alpha Beta Peel offered at his New York City practice. The two-step peel, which will retail for $95, uses the same formulation of the Alpha Beta acids Dr. Gross uses in his most popular in-office treatment, at pharmaceutical levels so you can expect major results to your skin's texture and appearance. The bonus? Zero downtime, despite the super-deep exfoliation.
Wondering what you'll find in each bottle of Dr. Gross' effective new product? The first step holds all the complexion-resurfacing goodness, like super-popular lactic acid, glycolic acid, and salicylic acid and a dead-skin eliminating enzyme called bromelain (a natural derivative from pineapple). The second step is chock full of antioxidants and anti-inflammatories from ingredients like green tea extract and colloidal oatmeal, to neutralize the acids and soothe, protect, and condition skin. The final result: A luminous, even-toned, touchably smooth face
The two-step process is also practically foolproof, and mimics exactly what you'd see done at the dermatologist. First, use a sterilized 100-percent cotton ball to apply the powerful Alpha Beta acid and enzyme solution to your face in single-direction sweeping motions: across your forehead, under eyes towards outer corners, down cheeks, across the chin, over your lip, and then down the nose.
After two minutes, follow up in the same manner with a fresh cotton ball soaked in the calming and nourishing neutralizer that stops the acids' activity. No rinsing required — it's seriously that simple. The brand recommends using up to three times weekly, and emphasizes daily sunscreen application to avoid UV damage.
If you're looking to amp up your at-home skin results, set a calendar alert now so you can be among the first to experience Dr. Dennis Gross Skincare's brand-new peel. Your dermatologist may miss you, but your skin will thank you.