This New Primer From GLAMGLOW Is The Multi-Tasking Makeup Product You've Been Waiting For
GLAMGLOW/Instagram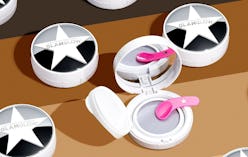 Even when GLAMGLOW does makeup, the Hollywood-based beauty brand does it with a skincare spin. GLAMGLOW's SUPERMATTIFY Clarifying Oil-Control Face Primer — which arrived online this December — illustrates this point perfectly. Yes, it's a silicone-based primer; which means it'll smooth over your skin, creating a sleek canvas for seamless makeup application. Nevertheless, it was still formulated to act as a bridge between your skincare and makeup routines: SUPERMATTIFY is spiked with staples that'll help cleanse your skin, a step rarely thought of when it comes to primer.
Think of the $42 primer as the last step in your skincare lineup. Inside the silky formula are six acids known for their ability to exfoliate, deep clean, and halt acne in its tracks: lactic acid, salicylic acid, glycolic acid, mandelic acid, tartaric acid, and pyruvic acid, to be exact. Which, by the way, may sound a bit familiar to you if you frequently use the brand's products. It's the same exact acid lineup used in GLAMGLOW's SUPERSERUM treatment, SUPERMUD Activated Charcoal Treatment Mask, and the SUPERTONER Exfoliating Acid Solution Toner.
But two other skin-soothing ingredients may be behind the primer's signature muted purple hue. GLAMGLOW included charcoal powder and a type of clay (disteardimonium hectorite) in order to combat any extra oil production and create a shine-free finish.
And it's important to pay attention to the primer's packaging, too — especially since this is a release aimed towards working with oily or acne-prone skin. Although SUPERMATTIFY comes wrapped up in a slim compact you may be tempted to dip your fingers into, make sure you use the pink spatula GLAMGLOW included in the release. Then, transfer a dollop of primer to your hands and warm it up with your fingers "to activate the acid complex" (as per the brand's Instagram post). Then you can apply the primer to your face and get on with the rest of your makeup routine.
It seems like these extra steps — and powerful formula — are well worth it, though; although it hasn't been out long, SUPERMATTIFY has already won itself glowing reviews online. Below, the new primer from GLAMGLOW, available on Sephora.com and GLAMGLOW.com (and in-store Jan. 4).