The Ultimate Guide To Picking Acids For Your Skin Type
Fernanda Calfat/Getty Images Entertainment/Getty Images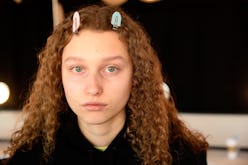 Exfoliation is necessary in any skincare routine, but the topic can cause a little bit of confusion. Physical or chemical? Once a week, or every day? What about sensitive skin? "Chemical exfoliation is the use of an ingredient that helps dissolve connections between skin cells so that the skin can naturally shed those cells more rapidly," Dr. Joshua Zeichner, M.D., Director of Cosmetic Research and Clinical Research at The Mount Sinai Hospital, tells TZR. "Ingredients like acids aid in the repair of skin damage." But the task for finding the best acid for your skin type can also be a daunting one.
The number of acids to choose from might seem endless, especially because they all have their own unique benefits. However, despite their misleading name, some acids are good for you — while some harsher exfoliating acids can cause damage to sensitive skin.
If you're overwhelmed, fear not: ahead are the acids to look out for based on your skin type, according to dermatologists.
Acne-Prone Skin
Main Concern: Frequent breakouts.
Ingredients To Look For: Salicylic acid should be your best friend. "It's a beta hydroxy acid that goes deep into the skin to help remove dead skin cells," Dr. Shari Sperling, DO, of Sperling Dermatology tells TZR. She adds that the acid also breaks up oils in the skin, as oil clogging the pores is a big contributor to blemishes. There's a misconception that ingredients that treat acne have to be harsh or drying to fight blemishes, but salicylic acid is still mild and won't irritate acne-prone skin any further, according to Dr. Sperling. It's especially effective for treating both blackheads and whiteheads.
Sensitive Skin
Main Concern: Products that cause a tingly or burning sensation upon contact.
Ingredients To Look For: If you're a little concerned of a skin reaction but still want to reap the benefits of acids, Dr. Zeichner recommends trying azelaic acid. "Azelaic acid helps calm inflammation in the skin, while offering a brightening effect," he says. "It has a larger sized molecule so it penetrates much slower into the skin, giving more gentle benefits."
Dry Skin
Main Concern: Tightness, especially along the cheeks and the T-zone.
Ingredients To Look For: A popular choice for dry skin is hyaluronic acid — and with good reason. The ingredient is incredibly beneficial for those who need hydrating. "Hyaluronic acid keeps moisture in the skin," Dr. Sperling says. "We naturally have this in our skin and it reduces as we age." But despite its name, the ingredient is technically not an acid. According to Dr. Zeichner, hyaluronic acid is technically a sugar that "pulls in hydration to the outer skin layer to moisturize and plump the skin." So while helpful for dry skin, it's not an exfoliant. For an exfoliating option that won't be too drying, Dr. Zeichner recommends lactic acid. "Lactic acid is derived from milk, so it has skin hydrating properties while it exfoliates."
Combination Skin
Main Concerns: Oily forehead and nose, dry cheeks and chin.
Ingredients To Look For: Combination skin can be difficult to manage, but using products with glycolic acid can make it a little easier. "Glycolic acid can be broadly used across all skin types and is particularly useful in patients who have combination skin," Dr. Zeichner notes. "It's actually the smallest sized molecule of all of the alpha hydroxy acids, or AHAs." He calls the ingredient a "workhorse acid" because of its many benefits: It's great for brightening dark spots, treating wrinkles and fine lines, and also helps with discoloration. Dr. Sperling says it's even good for acne, as it helps decrease oils in the skin without drying it out, which is perfect for those with combination skin.
Oily Skin
Main Concern: Unwanted shine and grease.
Ingredients To Look For: For oily skin, Dr. Zeichner recommends a somewhat underrated option: mandelic acid. Mandelic acid is an exfoliating alpha hydroxy acid that is a little gentler than other, more common AHAs, but it's especially useful for this skin type. "Mandelic acid is derived from an almond extract which is particularly useful in helping to remove excess oil from the skin," he says. The ingredient is also useful for anti-aging, acne, and hyperpigmentation.