Why GLAMGLOW's New Serum Is The Ultimate Multitasker For Combatting Dullness
Courtesy of GLAMGLOW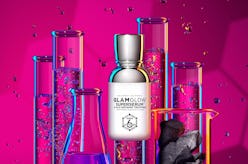 Unlocking the secret to great skin can be a seemingly lifelong struggle. As soon as you think you've figured it out, the season — or something else unidentifiable — changes and suddenly you're back to square one. And if you're striving for a balanced complexion, yet your current routine seems to come up short, GLAMGLOW's new SUPERSERUM could be your solution. The multitasking serum is supercharged with skin-perfecting ingredients to refine pores, remove dullness, and restore hydration all at once. Yes, really.
It kind of seems like cult-favorite skincare brand GLAMGLOW has a way of anticipating exactly what your skin routine needs at any given moment. Earlier this season, the brand debuted a dry-skin saving night cream ideal for dehydrated winter skin, and now it's offering up two brand-new beauty buys that'll solve other persistent complexion woes. The brand's new SUPERSERUM and SUPERTONER — now available on GLAMGLOW's site and at Sephora — are both packed with buzzy ingredients that target dullness and dryness all at once, so they're bound to shake things up in your skincare routine (for the better, of course).
What exactly will you find when you pick up a bottle of GLAMGLOW's latest drops? First of all, both the serum and the toner are supercharged with the brand's own formula of six exfoliating acids (lactic acid, salicylic acid, glycolic acid, mandelic acid, tartaric acid, and pyruvic acid, for the record), which go to work sloughing away dead skin cells so dullness becomes a thing of the past. The of-the-moment acid solution is joined by equally-buzzy activated charcoal, which further purifies your pores for a more evenly toned complexion. Yes, please.
The SUPERSERUM, $65, also boasts a hefty dose of hyaluronic acid, a hero ingredient that helps skin cells retain their moisture longterm. That means that while your skin is gently resurfaced via the six-acid blend, it's also getting plumped and smoothed. The result you're left with should be a complexion that's hydrated and glowy, instead of dry and dull — all thanks to a single product.
If you really want to ensure that you're doing away with dullness for good, sweep a serving of the SUPERTONER, $42, across your freshly-washed face before patting the serum into your skin. And don't be alarmed if you feel a little tingling, because it only means the product's working and luminous skin is within reach.
Ready to try GLAMGLOW's new skin-perfecting products for yourself? Shop them below from the brand's site, or scoop them up next time you're at Sephora to refresh your skin care routine.