Goop's New Face Peel Has 3 Times The Standard Amount Of This Skincare Ingredient — Here's Why
goop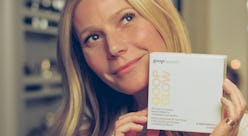 Glycolic acid can be a skincare savior. While it may sound a bit scary at first (as willingly putting acid on your face always will be), the glowy and smooth results are usually worth it — and anyway, as long as you pay the ingredient the respect it deserves, glycolic acid isn't a big deal. However, not all glycolic acid products are equal. Unlike some of the lighter formulas on the market — which can be perfect for more superficial treatments — goop's GOOPGLOW glycolic acid peel contains a powerful 15 percent concentration. For reference: That percentage is triple the concentration found in the popular glycolic acid toners you may be used to, which can range from 3 to 5 percent.
Although a higher chemical exfoliant concentration isn't always better, it can be necessary for achieving certain skincare goals, such as alleviating hyperpigmentation or smoothing facial lines. And it can be better for certain products, too. The new GOOPGLOW peel isn't a standard toner or exfoliating pad; released March 31 and retailing at $125 for a pack of 12, the formula was inspired by professional chemical peels — so a more powerful glycolic acid punch is needed if you want to get similar results at home.
"While I loved the results from my dermatologist's peel, I found myself doing it less and less," goop's own Gwyneth Paltrow, founder and CEO of the lifestyle brand, wrote on the brand's site. "The new GOOPGLOW peel was born out of my missing those results and wishing there were something I could do in my not so many minutes of me time at the end of the day that could make a real difference in the way my skin looked the next morning."
Which explains exactly how the product works. You swipe the formula-soaked pad over your skin before you sleep; the ingredients soak in overnight, increasing cell turnover (aka sloughing away dead or dull skin) while you snooze. All you need to do when you wake up is rinse it off, then go about your regular beauty routine — don't forget to apply SPF to your post-peel skin, though. And according to Paltrow, the peel pads work: The celebrity noted that clinical trials showed a visible improvement in skin texture.
Gwyneth Paltrow isn't the only beauty fan who's dreamt of getting professional peel results while they sleep. Keep scrolling down if you're one of them; the new GOOPGLOW peel is ahead.