Why Tata Harper's New Mask Should Be The Next Step You Add To Your Winter Skincare Routine
Tata Harper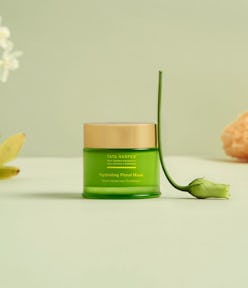 At this point in the year, no one needs to tell you that every moment you go outside you're facing a mix of harsh wind, dry air, and, of course, cold temperatures — after all, you've already been experiencing all of it since the beginning of the season. Another idea that you're probably already privy to is that these three factors, as well as any others that come with the winter season, often lead to the result of dull and dehydrated skin. While staying hydrated with the optimal amount of water is always the first step in skincare, sometimes it doesn't feel like it's enough. Not to worry, though: Tata Harper's Hydrating Floral Mask is here to help.
The Hydrating Floral Mask, which is the latest of the natural skincare brand's products and costs $95, may just be the answer to your winter skincare prayers. Featuring a unique hyaluronic acid complex, which includes 1,000 different micro and macro molecular sizes of the hydrating ingredient, this mask ensures complete plumping and moisturizing while you wear it. In this product, you'll also find tremella mushroom to lock in the moisture and an Australian coastal flower blend, which is rich in antioxidants and ferulic acid to brighten and even out your skin tone.
More likely than not, you've probably noticed hyaluronic acid among ingredients for a variety of hydrating skincare products, which, according to an article about the ingredient in Vogue UK's skincare alphabet, absorbs water to help plump and hydrate skin. The tremella mushroom found in this hydrating mask is also deeply hydrating, and as a previous article on The Zoe Report states, it can actually provide more moisture thanks to a smaller particle size. Add them together, and you've basically got a dream team of ingredients to help you stay hydrated through even the driest winter months.
Leave it to a beloved clean beauty brand like Tata Harper to create a hydration-filled product perfect for combatting the dry winter weather. Add this mask to your winter skin regime, and be sure to swipe a layer on your face and neck to let these ingredients do the heavy lifting this season all the way until spring hits. Ready to start shopping? Scroll down to shop the brand's Hydrating Floral Mask below, now.