Yes, Florals In Home Decor Can Be "Groundbreaking" — If You Do It Right
Netfalls Remy Musser/Shutterstock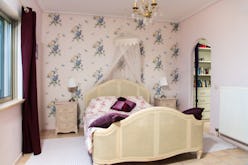 The floral trend is in full bloom, and no, it's not just for spring ("groundbreaking ..."). Mixing and matching motifs exudes a designer vibe, and when you weave in botanicals, it looks especially chic. The key is knowing a few key floral home decor ideas that blend with other design elements. Yes, that even means pairing with other prints and patterns (as well as other florals), because if done right, they won't look too busy.
But those who are pattern-shy, fear not: The "rules" of pattern mixing are relatively simple. When you keep scale, color, and a focal point in mind, you can blend multiple prints to create a cohesive look. And if you're afraid of crossing the line from sophisticated to "flower power," there are lots of easy, non-committal ways to add pops of petals to your space. Remember that playing with texture is trendy too, and with minimalism out and maximalism in, now is the time to go bold or go home.
Ahead, three interior designers share their expertise on blending botanicals into your space. Whether you're redecorating your place or you're looking to refresh your existing decor, these tips will help you modernize your abode, no matter your budget, style, or commitment level.
First, Pick A Focal Point
When featuring florals in your home (or any eye-catching pattern, for that matter), focus on one area so your decor doesn't look too chaotic or overwhelming. "I generally start with the focal wall or area that is the most important in the space and try to allow the collection to organically build from there," advises Bettina Stiewe of Upstart Modern, which specializes in contemporary art.
If you're doing a complete overhaul, she suggests starting with a favorite piece of artwork, then adding furniture and accents around it. But if you're looking for a pop in your existing decor, she notes that abstract florals with complementary colors are easy to incorporate into any room.
Mix Florals & Other Patterns Like A Pro
Although vibrant, botanical prints can be combined with other patterns to creative a cohesive look. Check out some designer tricks for mixing and matching petals with other patterns:
Be conscious of scale: "When we're mixing 'motifs' like botanicals or geometrics, we always play with scale," Sam Sano and Joslyn Taylor, principals at Swoon, The Studio explain. "Smaller patterns can almost read as a neutral and give your eye a rest from louder prints."
For instance, Shelby Greene, interior decorator at Living Spaces, suggests "a wide stripe and a tight floral." She continues, "With scale, mixing a tighter print with a wide print creates interest, dimension, and movement. It also draws the eye from one print to the next without overwhelming the look all together."
Choose complementing colors: Greene adds that forgetting to incorporate patterns with similar palettes is one of the biggest mixing mistakes she sees. "To bring [the look] together, pull colors out from one pattern and the other to complement each other," she says. "Tip: Start with the busier print and pull colors from that one."
Combine classic & modern motifs: "I love mixing patterns and prints with minimalist and contemporary art," says Stiewe.
The ladies of Swoon give their foolproof pairing for pattern-mixing newbies. "Pairing more classic prints like a stripe or a dot with bolder geometrics or florals is a great way to provide balance and a sense of push-pull. It gives a space instant interest without feeling over the top," they recommend. "If you're feeling really timid about it start with a stripe and a floral. You can't go wrong with that combo."
Experiment With Wallpaper
"Prints are incredible right now, particularly floral wallpapers," Stiewe points out. She notes that accents in bright colors are especially stunning against patterned fabrics and wallpaper.
Worried about a fully-wallpapered room appearing too busy? Consider decking out a single accent wall and keeping the others neutral. Not only does this allow you to bravely go bold, you can splurge on a quality roll, since you'll only be covering a small area.
Start With Simple Accents
If investing in a large piece of art or putting up wallpaper is too much of a commitment, don't worry; you can still get in on the floral trend. "Pillows are a great 'gateway mix,' as there are so many affordable ones available, so they're relatively low risk," say Sano and Taylor. "Grab a bunch in different prints that you love but in the same palette, and just start playing."
Area rugs (you can even try layering them) are another affordable, non-permanent way to incorporate flower motifs, as well as art prints or framed swatches of fabric or wallpaper. Bonus: Prop them up on the mantel, and you won't even have to put holes in your walls.