Yes, You Can Actually Make Rachel Green's Infamous Trifle Delicious — With These Tips
Warner Bros.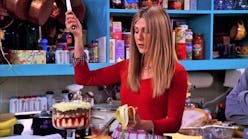 Need some help coming up with creative, festive additions to the Thanksgiving/Friendsgiving dinner you're either hosting or attending this year? Turns out your favorite TV shows and movies might just be the ideal source of inspiration. And while some of the famous holiday dishes from pop culture can be great for nostalgia and laughs alone, with a little finesse they can be pretty delicious, too.
One of the simplest pleasures of having time off with friends and family during the holiday is binge watching the classics (It's A Wonderful Life, The Holiday, Love, Actually, and so on). That said, wouldn't it be a fun addition to the table to reinvent some of the quirky, comical, mouth-watering, or otherwise memorable foods featured in some of them? Even if you fail, it can be a great conversation piece.
However, if you plan to create a dish that's just as tasty as it is a good talking point, there are plenty of ways to put a twist on the — ahem — less desirable ones or improve upon a classic. And advice from a pro chef certainly never hurts. From an extra decadent hot chocolate to a holiday favorite that never gets old (plus a few interesting creations in between), ahead are seven iconic dishes that make a perfectly festive addition to your Thanksgiving dinner, inspired by quintessential television episodes and films — with some helpful tips from chefs who know how to make seriously good food.
Remy's Ratatouille From Ratatouille
"Whether dressed up like the movie or dressed down like your great grandmother made it (I'll let your imagination take you wherever it goes on that one), I think ratatouille is all about the flavor," says Ria Barbosa Dolly, Executive Chef at Paramount Coffee Project in downtown Los Angeles about this traditional dish featured in the beloved animated flick. "It should taste like comfort, like a hug from the inside out." While the standard version is made with zucchini, you can try this recipe that utilizes squash and other fall veggies to make it feel a bit more seasonal. And if you want to make your version look more like the movie one, be sure to use a mandoline for perfectly thin, uniform slices.
Rachel Green's Trifle from Friends
Sure you can try your hand at the real version of Rachel's culinary misstep — layers of beef, custard, and jam she created when accidentally combining recipes for a shepherd's pie and traditional trifle — but if you want to make it actually delicious, Barbosa suggests sticking to a strictly savory route. "I suppose that could work if you made a few different changes, like savory chutney for the jam, pickled tomatoes for the raspberries, mashed potatoes for the custard, and maybe roasted parsnips for the bananas," she shares. "Or just maybe throw it in the garbage and start over."
Cheese Pizza from Home Alone
Pizza may not be a traditional holiday dish, but it's one that most people are always in the mood for — even when made super simply. "I know we are in the age of using beautiful ingredients and products but there really is nothing quite like the cheese pizzas of my youth in the '90s," says Barbosa. That said, why mess with a classic? Recreate Kevin McCallister's all-time favorite by adding extra cheese and skipping out on any other toppings.
Roast Beast from How The Grinch Stole Christmas
The ambiguous "roast beast" from Dr. Seuss' tale leaves a lot to the imagination. That said, why not serve three different beasts in one? "This [dish] makes me think of a turducken," says Barbosa. "I've always wanted to make one of those." Want to serve this combo of turkey, duck, and chicken in lieu of the standard bird this year? Try this version that also incorporates a tasty later of stuffing with sausage.
Peking Duck from A Christmas Story
"Peking duck is truly a perfect food," explains Barbosa of this dish, which was served in the movie at a Chinese restaurant after dogs attack the family's holiday turkey. Go classic or try a slightly Western version of crispy skinned duck, which is typically seasoned with Chinese five spice and soy, and finished with a sweet glaze.
Spaghetti & Syrup from Elf
According to Barbosa, there's probably no way to save this sickening sweet, candy-covered creation by Buddy the Elf. "Maybe skip the pasta altogether and just make yourself a nice, classic mont blanc," she says, recommending the chestnut dessert comprised of pie crust, whipped cream, meringue, and sweetened chestnut paste. "The piping work on that dessert kind of looks like a nice neat little mountain of twirled spaghetti."
Hot Chocolate From Chocolat
Chocolat isn't a holiday movie, per se, but the thick, rich, European-style hot chocolate Juliette Binoche's character makes in the film seems just perfect to serve this time of year. As for how to make your own equally delicious cup, chef and Dappled author Nicole Rucker says the most important part is the type of chocolate you use. "The best hot chocolate is made with a blend of high quality cocoa and some melted dark chocolate," she offers. "I like it a little bitter but with a dollop of sweetened whipped cream. Other than great chocolate, the most important ingredient is salt! It makes the drink sing."