This Healthy Twist On A Traditional Favorite Makes The Perfect Potluck Side Dish
Brent Hofacker/Shutterstock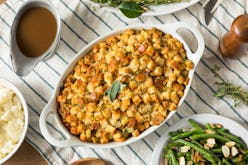 One of the best parts of the holidays is spending time with your loved ones — and doing so is nearly always made even more enjoyable when you're catching up over a table full of delicious and festive foods. More than likely you'll be invited to dinner at someone else's house this year, and it's not uncommon for them to request you bring a dish to share. If that's the situation you've found yourself in, there are some sincerely tasty side dishes for potlucks that you should consider before just grabbing something from the frozen foods section. Honestly, you can totally do this.
Whether you're headed off to a Friendsgiving dinner or hosting a holiday get-together yourself, it always helps to know a few tried-and-true side dishes that work well for a crowd (and please even the pickiest of eaters). Combine that idea with tweaks that make them more healthy or feature seasonal produce (like butternut squash or cauliflower) to amp up the holiday/winter vibes.
If you're not the most creative home chef, it doesn't hurt to stick to classic dishes, like mac and cheese and stuffing. But to make them a bit more exciting, you can always follow the advice of some top chefs that know how to add a bit of festive flair. For some inspiration, have a look at the six side dishes ahead that will surely make you the hero of any holiday potluck you attend.
Classic Mac & Cheese
Mac and cheese is a classic side dish at soul food establishments like Georgia's Restaurant in Long Beach, California, and the eatery's owners Nika and Gretchen Shoemaker have a tip to make sure yours will win everyone over: Don't skimp on the cheese and heavy cream. Other than that, feel free to make it your own by adding some spice, seasonal veggies, or bake topped with bread crumbs for a crispy crust.
Crispy Brussels Sprouts
Chef Francisco of classic American restaurant The Raymond 1886 gives his pan-fried Brussels a tangy-sweet twist by tossing them in a house-made honey dijon dressing.
Nicaraguan "Stuffing"
Feeling a little ho-hum about traditional Thanksgiving stuffing? Follow the advice of District's Executive Chef Luis Cuadra and try it the Central American way. "One of my favorite dishes, which my father made, is a 'stuffing' that is traditional to Nicaragua that takes days to make," he explains. "It's made with ground pork, milk-soaked toasted bread, raisins, olives, tomato paste, milk, and more. It is cooked low and slow and with a lot of love — I remember my dad and I leaving it to cook overnight while we slept."
Cauliflower Mash
For a lower carb sub for the usual mashed potatoes, do what healthy eatery MIXT does and mash cauliflower into a similarly creamy consistency instead. Co-Founder and CEO Leslie Silverglide adds that the restaurant's vegetarian version is finished off with parmesan and minced chives for extra flavor.
Roasted Mushrooms & Sunchokes
Another healthy option from MIXT's seasonal menu that you can easily make yourself is roasted mushrooms and sunchokes. Add a little color and texture by sprinkling a few pomegranate seeds on top.
Torta Di Ceci
Looking for a vegan-friendly (not to mention gluten-free) option? Try whipping up a version of this classic Tuscan dish, which Ria Barbosa Dolly, Executive Chef at Paramount Coffee Project in Los Angeles, loves to make when hosting a holiday crowd. Her twist on the chickpea pancake starts with a batter that's a bit thicker and creamier than the original, and cooked in a casserole dish filled with seasonal veggies. "Load it up with pre-roasted autumn vegetables like butternut squash, parsnips and/or mustard greens," she says. "The finished product will yield a creamy and delicious side dish that may or may not be better than the turkey."
Seasonal Vegetable Salad
Never underestimate the power of a truly good salad when feeding a crowd. A perfectly seasonal version to replicate is this one from the menu at North Italia. "Each time the season changes, we get excited because there are so many wonderful opportunities to feature the season's most amazing vegetables," says Brand Chef Carlos Calderon. "One of my favorites for fall is butternut squash. An instant eye-catcher with its bright orange color, it is the perfect addition to any salad and pairs beautifully with seasonal vegetables, such as cauliflower and brussels sprouts. We also add kale, radicchio, pecorino, farro, pistachio, and dates, then drizzle it with a white balsamic vinaigrette."