Chrissy Teigen's Banana Bread "Launched A Million" Tweets & She's Finally Revealed The Recipe
Stuart C. Wilson/Getty Images Entertainment/Getty Images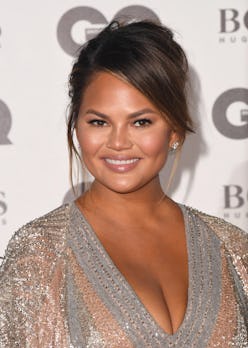 It's finally here. Just in time for fall baking season, the banana bread recipe that set Twitter feeds on fire is finally at your disposal via Chrissy Teigen's highly anticipated cookbook, Cravings: Hungry For More, which came out today. The release is the model's second recipe installment and follows the super successful Cravings, which gave foodies a first taste of Teigen's magical cooking skills.
This time around, Teigen is giving readers even more of what they want, comfort food and, of course, comedic anecdotes, all for the bargain price of $18. From "Everything Bagel Cream Cheese Breakfast Bake" and "Shake And Bake Chicken" to "Mushroom & Crispy Shallot Nachos" and "King's Hawaiian Pull-Apart Bacon Grilled Cheese," indulgence is the name of the game and Teigen's fans and millions of social followers wouldn't have it any other way.
But back to the banana bread. In case you missed it: Teigen's now-cult recipe first made ears perk up when she sent a call to action on Twitter for people to send six brown bananas back in September of 2017. The entrepreneur was knee-deep in research for the cookbook released today and working to perfect the fine art of banana bread. In return for said six bananas, Teigen promised to "send my assistant to your home with a signed cookbook, John's underwear, and a Becca palette."
The request was not taken lightly and followers came to her aid, with one lucky fan reaping the rewards. The rest is social media history, (and Teigen eventually went on to post the recipe briefly on Snapchat). It seems the her efforts have come full circle as the recipe is now immortalized in Cravings 2 and ready to be baked and enjoyed.
In addition to the yummy baked goods, fans will also notice "brighter flavors" in this second installment, which is a direct result of a more "grown-up" Teigen, that got to "travel and taste more things around the world." Indeed, recipes for Pad Thai Carbonara, Kung Pao Roasted Broccoli, and Tom Yum Noodles are all included in the flavor-filled roster.
And as clever and unique as the recipes are, Teigen admits they're slightly less involved than those in her first installment. In her new book, the author writes: "I had dreams of finding out what the hell is in the seasoning for Cool Ranch Doritos, but even if I did find it, I can't do that to you. Forcing you to make Cool Ranch dust for this downhome, family-staple taco salad would be very Book 1. Book 2, post-Luna Chrissy says to buy the bag and crush them up. Who knows what laziness Book 3 Chrissy will come up with at this baby-making rate."
And just when you thought that was the extent of Teigen's reign in the kitchen, news of her new cookwear collection at Target also broke this week. The 40-piece line, which launches at the end of the month, includes glassware, serving essentials, cutlery, and even a Dutch oven. So you'll be fully equipped when you get down to whipping up Teigen's Jalapeño-Cheddar Corn Pudding.