Charlotte Tilbury's Collagen Lip Bath Got A Major Update & Fans Are Going To Be So Happy
Courtesy of Charlotte Tilbury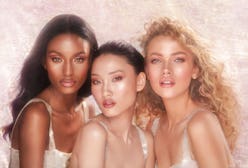 As if you needed another reason to love summer, add to the list the exciting fact that beauty brands turn out tons of new products to welcome the warm and playful season. From colorful eyeliners to illuminating bronzers to shimmery lip products, they're all aimed at helping you achieve that sexy, goddess-like glow this season. And now joining the growing list of gorgeous summer beauty launches is the ever-popular Charlotte Tilbury Collagen Lip Bath which got a major update — and two juicy new shades — just in time for summer.
When a beauty product is already a bestseller, you wouldn't think there'd be much the brand could do to make fans fall deeper in love. That is, unless said brand takes the top-seller and super-sizes it — without boosting the price. That's exactly what Charlotte Tilbury did with its cult-favorite Collagen Lip Bath gloss, which popped up on May 23 as part of the brand's new Glowgasm collection for Summer 2019.
And that's not all. After fans had consistently been asking for more, Charlotte Tilbury announced that the award-winning gloss is now finally available in two gorgeous, exclusive new shades to go along with the rest of the Glowgasm collection. The shades, peach-pink Peachy Plump and deep-pink Rosy Glow, join the existing transparent pink shade Refresh Rose, and are up for grabs on the brand's site for $35 each in the bigger, better 7.9 milliliter tube that'll last you all summer.
The skin care-inspired lip gloss is formulated to bathe your lips in luxurious, instant moisture, with an ingredient list that includes marine collagen and coconut oil to condition and hydrate, and mustard sprout extract to plump and define the natural contour of your pout. The addition of peppermint extract imparts a tingly, fresh feeling so you know the product's working. Instantly, you'll see fuller, more pillowy looking lips — and with the silky-smooth formula, you definitely won't miss the sticky feeling that your old glosses may have left behind.
And to further pump up the volume on your pout, the glosses also get a good dose of pretty pearlescent pigment that enhances the high-shine, mirror-like finish with light-reflecting shimmer and sparkle. A single swipe of the heart-shaped applicator (which fans say dispenses just the right amount of product), and you'll instantly have that signature Tilbury goddess glow.
Eager to grab the new gloss in one — or both — of the sweet and summery new shades? Keep scrolling to see and shop the Peachy Plump and Rosy Glow glosses for yourself, and head to Charlotte Tilbury's site to get in on the rest of the Glowgasm collection.