All The New Summer Launches From Stila You'll Want To Add To Your Makeup Bag ASAP
ImaxTree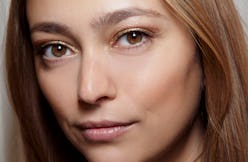 If you're following one of skin care's most cardinal rules — aka, applying your SPF on the daily to protect your face from irreversible sun damage — you might be in search of a product that'll bring a much-needed dose of summer color to your skin. After all, this season is all about giving off a gorgeous, goddess-like glow. As such, you're gonna want to get your hands on Stila's Twin Cheeks Kitten Bronzer Duo so you can bronze, strobe, and sculpt your way to a sun-kissed face. And that's just the start of what Stila's serving up this summer.
Practically every major beauty brand from Fenty Beauty to Parisian-founded cult favorite Rouje is putting out fresh, hot collections for the season ahead. Longtime-loved line Stila is no exception, and the brand's Summer 2019 WORK IT Collection is turning out exactly what you'll need to turn up the heat, wherever the summer takes you. From bold, statement-making lip glosses and unexpected eyeshadow palettes, behold the summer collection of your dreams.
Just about every summer beauty look starts from the same place: A beautiful, bronzed base that gives off that fresh-from-vacation glow. To get it, you need a good matte bronzer and a shimmering golden highlighter — and guess what? Stila's Twin Cheeks Kitten Bronzer Duo — which the brand also recently dropped to the surprise of its fans — has got both. The $32 duo includes two shades in the two finishes you'd need, Bronze Matte and Kitten Shimmer, so you can expertly add natural-looking sun-kissed color and subtly strobed highlights with a single product. Right now, you can score the summer necessity from Ulta's site.
Then turn up the heat by swiping on one of Stila's brand-new Summer 2019 lip glosses from its new Beauty Boss Lip Gloss range. Each of the $15 high-shine, high-impact glosses gives your pout an instant dose of super-pigmented color, and several of the shades (like hot pink Payday and the sexy metallic Golden Parachute) also pack a serious dose of sparkle that show you're in charge. They're ideal for taking your summer beauty style to the next level, whether you're in the boardroom or headed to the beach.
Complete your look with Stila's new palettes for summer, the After Hours palette and the limited-edition Happy Hour palette. The latter is available at Ulta, the former at Sephora, but both of the $52 shadow sets are up for grabs on Stila's site if you simply can't choose between the two. After Hours offers warm shades like terracottas and bronze-y browns that perfectly play up the season's natural color palette, while Happy Hour places an emphasis on cooler tones like icy blues and purples that contrast with the setting summer sky.
Keep scrolling to see and shop Stila's glowing summer launches, and stock up now so you're ready to work it all season.