Here's When Each Of Charlotte Tilbury's New Glowgasm Products Officially Drop
Charlotte Tilbury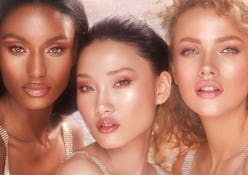 Warm weather is (finally) arriving, and when it comes to your beauty routine, that can only mean one thing: It's time to embrace the glow. The minute the sun's rays get stronger, you can bet your skin will be looking extra dewy — so why not play it up? And to do so, you're gonna want to stock up on Charlotte Tilbury's Glowgasm collection, a new range of healthy-glow enhancing products to give your face the kind of luminance you'll want this summer.
If there's one thing that celebrity-favorite makeup artist Charlotte Tilbury is known for, it's crafting the ultimate goddess-like glow that looks as great on A-list red carpet walkers as it does on office-bound professionals. So it only makes sense that the reigning queen of glow would release a new collection of pretty luminance-boosting products, just in time for the warmest season. The brand-new Glowgasm collection is officially rolling out as of April 18, and you're going to want it all.
Charlotte Tilbury's latest illuminating launch includes a total of five different products with decidedly cheeky names, three of which you can start shopping now. The four-pan Glowgasm Face Palettes, $75, the Glowgasm Beauty Light Wands, $38, and the Eyes to Mesmerize in Star Gold and Rose Gold, $32, are already up for grabs on the brand's site before the remaining two launches land on May 2 and May 23 (the Luxury Eye Palette in Dreamgasm and two new shades of the Collagen Lip Bath, respectively).
The just-dropped Glowgasm Palette comes in two limited-edition four-pan shade ranges, Lightgasm and Lovegasm, which each include a pearly, high-strobe highlighter, gilded warm-toned blushes, and rich, buildable bronzers. Use each shade to craft your desired level of all-over glow — define your cheeks with the blush and bronzer, and highlight the high points of your face with the multi-dimensional luminizer. The powder formula's smoothing polymers mean each color will slide on effortlessly and blend into skin for a lit-from-within look.
Enhance the glow across your cheekbones, along the bridge of your nose, or on your cupid's bow with the Glowgasm collection's exclusive shades of Tilbury's Beauty Light Wands. Now available in Pinkgasm, Goldgasm, and Peachgasm, each creamy liquid wand blends strobe-like shimmer into skin, to a translucent and radiant finish.
Then, give your eyes a gilded effect with the newly returned and now-permanent shades of the creamy pot shadows, Eyes to Mesmerize in Star Gold and Rose Gold. The coppery Star Gold shade is ideal for warm summer nights when you want to turn up the drama, while the peachy-pink Rose Gold shade is great for doing from day to night with a more subtle sheen.
Below, check out the Glowgasm collection products you can already shop now, and make sure your alarms are set for when the rest of the range hits Charlotte Tilbury's site. It's time to get your glow on.