Charlotte Tilbury Is Launching A New Hot Lips Collection — & There's An Important Reason Why
Charlotte Tilbury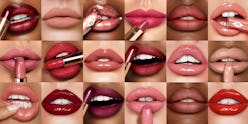 What's better than a buttery soft, luxurious lipstick that help you feel pretty and polished each time you swipe it across your pout? One that does that and then some by donating invaluable funds to a really great cause. That's the impetus for the launch of Charlotte Tilbury's Hot Lips 2 collection, a brand-new range of beautiful lipsticks designed to make you look and feel your best — and better still, improve the lives of women all over the world. This is one purchase you can feel pretty good about.
In an increasingly globalized world, it's more apparent than ever that the fight for female empowerment isn't just happening in your own city or country, but all over the world. Thankfully, there are charities like Women for Women International committed to changing the script for women living in war-torn countries and conflict zones — and it just so happens that one of the most cult-loved beauty brands is a major part of the ongoing efforts.
Celeb and beauty-buff beloved brand Charlotte Tilbury has worked with Women For Women International since 2016, when the first Hot Lips collection launched with 12 now-award-winning lipstick shades inspired by some of the world's most powerful and inspiring women (Super Cindy, for example, is named after a certain iconic supermodel). From that collection, $2 from each lipstick purchased went directly to Women For Women International, while the campaign hashtag #LIPSTICKCONFIDENCE further raised awareness for the nonprofit's efforts across social media.
Now, Tilbury and the women's charity are bringing the campaign back with the release of Hot Lips 2, and a pledge from the beauty brand to donate $1.3 million to benefit Women For Women International's programs. And while the brand-new slew of beneficial lipsticks won't be available until June 2019, you have a lot to look forward to.
That's because the collection will include a total of 11 never-before-seen shades all named for iconic men and women that inspire Tilbury and the rest of the world. Yep, you read that right. A whopping 11 new Charlotte Tilbury lipstick shades are coming at you soon, all of them celebrating the confidence and happiness that lipstick can create. No word on exactly what kind of colors and finishes will be included in the collection (the previous Hot Lips range featured both Tilbury's Matte Revolution and K.I.S.S.I.N.G formulas), so let the daydreaming begin.
Thanks to the 2019 campaign with Charlotte Tilbury, the charity will be able to expand its year-long training programming into new areas, so more women will be given the tools to earn and save money, improve the health of their loved ones, and make their voices heard. That said, be on the lookout for the Hot Lips 2 official launch in June, so you can be sure to snag a tube of the feel-good lipstick for yourself.