What CBD Can And Can't Do For PMS, According To A Doctor
Lia Koltyrina/Shutterstock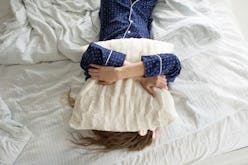 If you're someone who struggles with intense premenstrual symptoms, there's probably not a whole lot of things you wouldn't try to make your cycle more bearable. So when cannabidiol — a component of the hemp plant that doesn't contain psychoactive properties — emerged as a wellness solution that was poised to benefit everything from acne to anxiety, it begged the question: Can CBD help with PMS?
Minor PMS may be tackled with a little self-care and TLC (like a bit more rest and relaxation than usual). However, many women suffer much more severe symptoms, including migraines, painful cramping, body aches, bloating, sleeping issues, and mood swings, just to name a few. And while some choose to try a combo of mood-boosting supplements as a remedy for their issues, some experts say that utilizing CBD might also be worth your while — it just depends on what your expectations are.
According to Dr. Mikhail Berman, a Palm Beach Gardens physician who specializes in hormone replacement therapy and functional medicine, there are a few symptoms that can be somewhat managed with the regular use of CBD. But before understanding how this buzzy wellness product works its magic, it might be helpful to understand exactly why premenstrual symptoms happen in the first place.
As Dr. Berman explains, a lot of the uncomfortable effects of PMS can be attributed to a drop in the progesterone/estrogen ratio. "Cramping, back aches, and even migraine before your period are caused by a drop in hormonal levels preceding menstruation," he says. Given that information, there are limitations to how CBD can help, and the physician adds that supplementing with progesterone from the last 13th to 18th until the 25th day of your cycle could help with symptoms like swelling and breast tenderness. "Progesterone has a diuretic effect, the opposite of estrogen's moisturizing and water retaining effect that causes swelling of the fingers and making breasts more heavy and tender," he says.
That said, adding CBD to your premenstrual regimen could be worth your while. "CBD has a calming and muscle-relaxing effect, among others," explains Dr. Berman. "This is why it will help with sleep, moodiness, cramps, and aches." And in his opinion, both oral and topical options (like the post-workout balms or bath products you may already have on hand) can be useful. "Women can take 10 to 20 milligrams of CBD a couple of times a day by mouth, and apply dermal cream [to affected areas]," he offers.
And when it comes to such CBD products, it's important to note that not all are created equally, which is the principal behind Ned, a brand that created a line of oils and body butter to help with period-related symptoms. As co-founder Adriaan Zimmerman explains, what makes their products different is that CBD is combined with other ingredients such as magnesium, iron, and vitamins A, B, C, E, and K — which may help balance the endocrine system — plus a host of wildcrafted botanicals.
As for why you might want to reach for a CBD product in lieu of over-the-counter pain relievers, Zimmerman explains that has to do with the lack of side effects. "The active ingredient in both Midol and Advil is ibuprofen, which is shown to carry numerous side effects including nausea, vomiting, flatulence, diarrhea, abdominal pain, and other gastrointestinal issues," he says. "Meanwhile, medicines like ibuprofen are addressing the 'what' not the 'why' and are acute treatments for short term relief." It's also helpful to note this is the same theory that Dr. Berman applies to the limitations of CBD, and knowing when to reach out for additional hormone support.
Think CBD might be able to help with your PMS? Try starting off with a combination of an oral and a topical product, like the two below, and see if that makes your symptoms more manageable. And, as always, if you're not sure, it's always best to speak to your regular doctor first.