Bumble And Bumble Created A New Trio Of Hair Products That's Going To Make Styling Your Hair So Much Easier
Bumble and bumble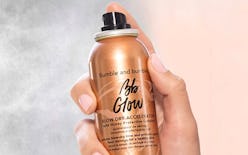 In the beauty world, there are two subtle yet distinct types of glow. There's an on-the-surface glow that's great but not permanent, and then there's the lit-from-within kind of radiance that can only come from skin and hair that's happy and healthy. The former type is fine in a pinch (everyone falls off the self-care wagon sometimes and needs a quick fix), but it's safe to say everyone would prefer that lasting luminance in the long run. Luckily, Bumble and bumble's new Glow collection not only makes styling a breeze, but also helps you get your hair's natural glow back in a flash — for a luminous look that actually lasts.
Beauty enthusiasts make a big deal about getting skin that glows, and with good reason. After all, who doesn't want an effortlessly radiant face that looks great with minimal makeup? But there's plenty of luminance to go around, and it's safe to say your hair deserves its share. But healthy, glowing locks are harder to get than it would seem — especially if you habitually put your hair through heat styling that eventually leaves it looking a bit frazzled and fried.
Thankfully, that's where Bumble and bumble comes to the rescue. The brand created its new Glow line, which combines easy-breezy styling with conditioning, protecting glow-getting treatments, so you can keep your hot tools and have healthy hair too. Tresses that have the best of both worlds? Please and thank you.
Bumble and bumble's Glow Collection, now up for grabs on the cult-loved hair care's website, is a trio of tress-perfecting styling products that's powered by a Honey Protective Complex and Bold-Building Technology that work together to repair, protect, and effortlessly style your strands. Basically, they're the products you need on hand if your hair has lost its innate glow. Plus, each of the three strengthening and smoothing treatments, $32, is effortless to add into your styling routine — so what are you waiting for?
While hair's still damp from the shower, work the Glow Blond-Building Styler through strands to help strengthen them from within, protect from heat damage, and seal each hair to prevent brittleness and breakage. The magic multi-tasker will also provide light hold to help you effortlessly achieve your desired style. Then, to cut your time with the blow dryer in half, spritz your strands with the Glow Blow Dry Accelerator — the non-aerosol spray flights frizz while strengthening and smoothing hair for a flawless finish.
To protect your hair's health and really turn up the glow, grab the Glow Thermal Protection Mist that's ideal for more intensive heat styling. Meant for use on dry hair, the lightweight mist shields strands from heat damage up to 450 degrees, while moisturizing and repairing breakage-prone strands for healthy, shiny hair. Use it when curling or straightening blow-dried hair, or on second-day hair that's in need of a styling refresh.
Get your glow on from root to tip by grabbing Bumble and bumble's radiance-boosting trio, below.