Paula's Choice Added A New Product To Its Defense Collection To Help You Upgrade Your Pollution Protection
Paula's Choice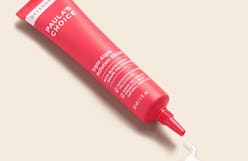 While you may be doing your part to minimize your environmental footprint — eschewing single-use plastic, thrifting instead of shopping fast fashion, and always bringing your reusable tote to the grocery store — the sad and simple truth is that pollution is on the rise. And as far as air pollution goes, this has some unfortunate consequences on not only your internal health but also your body's biggest and most vulnerable external organ: your skin. But you don't have to sit idly by and allow environmental stressors to damage your skin; instead get proactive and grab a tube of Paula's Choice Defense Triple Algae Pollution Shield.
When it comes to protecting your skin, it's actually a little more involved than just slathering on some SPF before dashing out the door. In fact, there's a host of other environmental irritants that can cause your complexion to go haywire — significant among them, air pollution in any form, which can accelerate early signs of aging. An extra line of defense is necessary to shield the face's sensitive, damage-prone skin from aggressors like car exhaust, cigarette smoke, and ozone, and that's exactly where the latest launch from Paula's Choice comes in. This is one step in your skin care routine you'll want to add, STAT.
The new Triple Algae Pollution Shield, $31 and now available on the Paula's Choice site, provides a simple solution to boost your anti-aging skin regime and provide actual protection against pollution. The lightweight, silicone-free treatment packs a powerful punch of 16 natural antioxidants that work together to strengthen and repair your skin's barrier and prevent pollution from sticking to skin and penetrating your pores. To put it simply, it's the skin care step you might've been missing that'll keep your complexion looking youthful and radiant for longer.
The innovative gel cream, which joins the rest of Paula's Choice's DEFENSE line that's focused on fortifying your face, relies on antioxidant-rich algae extracts, glutathione, and grape seed to create a powerful protective shield against airborne free radicals, while moringa oleifera seed oil brings natural, skin-defending peptides to further prevent damage. Milk thistle stimulates your skin's natural antioxidants so they fire on all cylinders to keep a calm complexion, and curcumin breaks down pollutants on the spot so they can't sneak into pores. Edelweiss flower encourages skin to repair existing damage for a more even, glowing appearance.
Use the Triple Defense Pollution Shield up to twice daily on clean, dry skin — in the morning, make sure to follow with an effective SPF to ensure a well-rounded line of defense. Snag a tube of this talented, natural protection treatment for yourself, below.