This Luxe New Lip & Cheek Oil Is The Perfect Addition To Your No-Makeup Makeup Routine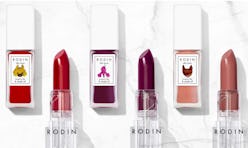 Whether you're an all-out makeup enthusiast or a one-in-awhile full face painter, the fact of the matter is that some days call for a simple, low-key beauty routine to get ready and out the door. But a subtle no-makeup makeup look certainly doesn't mean you want to leave the house bare-faced. A little hint of color goes a long way to help you look fresh and as luck would have it, that's exactly what RODIN olio lusso's new Luxury Lip & Cheek Oil provides. These five pretty, multi-tasking shades in a conditioning oil formula are the makeup bag heroes you never knew you needed. Until now, of course.
Beauty buffs know luxury brand RODIN for one thing in particular: its collection of incredibly rich and deeply conditioning oils. Expertly crafted with the purest botanicals, the oils deliver skin-soothing, glow-inducing benefits (and sweet, intoxicating aromas to boot). So it only makes sense that its latest Aug. 2019 launch would place its oil expertise at center stage — with the subtlest infusion of skin-flattering color for the minimalist makeup staple your shelf needs ASAP. No-makeup makeup just got even more effortless.
RODIN's Luxury Lip and Cheek Oil, $35, is designed to deliver instant, effortless glowing color that blends seamlessly and naturally into skin on your cheeks and lips. The brand's luxury blend of oils, which includes moisture-rich safflower seed, jojoba seed, and sunflower seed oils, plus conditioning ingredients like turmeric extract and ceramides keep skin looking dewy and healthy throughout wear while depositing the ideal hint of color for days when you want to quickly and easily create a radiant, fresh-faced look.
The natural oil and pigment blend, available now on the brand's site, comes in five equally wearable tints (that just so happen to coordinate with RODIN's most popular Luxury Lipstick shades). Choose from bolder, but still subtle hues like poppy-red Red Hedy, rich plum Billie On The Bike, and pinky-mauve shade Berry Baci if you want a more impactful wash of color. Or, if you like a flush that looks completely natural, opt for pale petal pink So Mod or neutral nude Heavenly Hopp. Whatever your choice, every color is easy to apply with just a few dabs of your finger.
Each sweet vial of the silky oil is as sleek and effortless as the product itself — but with a touch of whimsy by way of cheeky, cheerful sketches by Donald Robertson. Every shade features its own playful puppy portrait, from a poodle to a Pekingese, to highlight RODIN's affinity for furry friends and commitment to its cruelty-free pledge.
Think you might need this minimalist multi-tasker in your makeup bag? Shop all five subtle shades, below.