This Is What You Should Wear To Your Next Holiday Party If You Love Blake Lively's Style
Pascal Le Segretain/Getty Images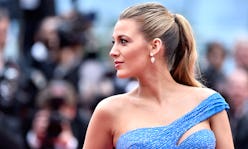 Winter is fast approaching, but don't fret just yet — with the cold weather's arrival also comes a host of holiday parties that are sure to lift your spirits. And as your calendar begins to fill out in the coming weeks, the time to shop for your holiday wardrobe is now. What better way to shake things up this year than by planning a few outfits inspired by Blake Lively's style? The actor's wardrobe is chic, unique, and surprisingly easy to recreate, deeming it the ultimate party inspiration.
The 31-year-old knows the makings of the perfect ensemble, constantly dishing out enviable street style and red carpet looks. They're sophisticated and trend-forward but also unique to her personality, and considering the fact that the actor is her own stylist, her outfits become all the more impressive.
Make like Lively this holiday season and go for the unexpected. Instead of reaching for your go-to black dress, try a two-piece suit set. Or, go bold in a red statement piece that's sure to stand out at your family's annual get-together. Ahead, four of Lively's very best outfits, along with The Zoe Report's favorite pieces to recreate each look yourself. Consider yourself warned: settling on just one of these outfits will be a struggle.
The Sleek Black Suit
It was during Lively's A Simple Favor press tour that she demonstrated just how stylish a power suit is. Throughout Aug., the actor wore the two-piece set almost religiously, as a sort of homage to her on-screen character. Look towards Lively's menswear obsession when piecing together your holiday looks — after all, a suit is the ultimate cool-girl party uniform that's easy and streamlined.
Copy Lively and pair a sleek black suit with a sparkly mesh top. If that's too bold for you, swap the see-through shirt for a classic white tee, which can easily be dressed up with statement-making jewels, cool makeup, and a sleek updo.
Shop The Look
The Tuxedo Dress
If a two-piece suit feels too stuffy for your taste, but you still want something with menswear-inspired elements, take notes from Lively's tuxedo dress. Right before her suit parade took off, the actor walked the red carpet in April wearing a blazer dress from Sonia Rykiel's pre-fall 2018 collection, which she teamed with a crisp white button-down by Sunday Best. The finishing touches? A bow-tie and floral print heels.
During the planning stages of your holiday party looks, take a page out of Lively's book — as well as a crop of other celebs who have joined in on the trend, including Meghan Markle and Emily Ratajkowski — and work a tuxedo dress into your outfit lineup. It's slightly easier to pull of than a full two-piece suit, and it comes in a handful of silhouettes and colors.
Shop The Look
The Gingham Dress
While you might not immediately associate gingham — a quintessential summer print — with the holidays, one look at Lively's red-carpet ensemble will convince you to wear a check pattern dress to your next party. The key to making the piece work during the cold-weather months? Pick one designed in a weighted fabric, passing on those that look and feel a bit too airy and lightweight.
Lucky for you, the market is chock-full of winter-friendly gingham dresses right now, with Lively's exact pick — an asymmetric midi dress by Monse — also available to shop. As for how to style it? Copy the actor's approach and keep it simple with a pair of black strappy heels. If you want something a bit more glitzy, top off the dress with statement-making earrings, sparkly heels, and a swipe of ruby-red lipstick.
Shop The Look
The Red Statement Piece
Though Lively technically wore this statement-making look in honor of Valentine's Day (complete with heart-embellished heels and all), it's a great look to carry into the holidays. Next time you find yourself in a styling rut, take note from the actor and center your entire look around one cherry-red staple, which is actually easier than you might think (especially since the market is overflowing with crimson-colored pieces).
Whether you want to go all-out and don a sparkly red dress or opt for a more subtle pop of color in the form of an elegant ruby-red blouse, one thing is for certain: a red statement piece is equal parts fun and festive and doesn't require a lot of additional styling.
Shop The Look