Bella Hadid Is A Doppelgänger For This Iconic '90s Supermodel At The Met Gala
David Fisher/Shutterstock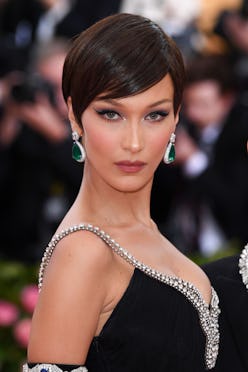 This year's Met Gala saw its fair share of nostalgia in the form of throwback beauty looks and ensembles as various celebrities took inspiration from eras and icons of yore in incredibly fresh ways. Case in point: Bella Hadid's Met Gala look. While oozing with the model's own signature sultry edge, it seemed Hadid pulled inspiration from a '90s icon to whom she bears a stark resemblance.
Yes, with her sleek pixie wig and chiseled features, Hadid was a total doppelgänger for the legendary Linda Evangelista. The '90s supermodel was famously known for her sky-high cheekbones and ultra-short hair that was often cut close to the face to show off her incredible bone structure. (She's also is notorious for saying "I don't get out of bed for less than $10,000 a day," but that's neither here nor there.)
Intentional or not, Hadid paid homage to the fashion icon by channeling her in a look that read very '90s glam. In addition to her chocolate-brown pixie hair, smoky winged eye makeup, and soft mauve lip, the young model's gown featured a cut-out, body-hugging mermaid silhouette and full-length jeweled gloves that felt like a total throwback runway look. "If Linda Evangelista and vintage Barbie had a baby," said Mary Phillips, the Dior Makeup Artist responsible for Hadid's look. "We went for a dramatic winged liner with jewel accents."
Like Evangelista, Hadid is known for her head-turning, daring fashion and beauty looks, particularly at the annual Met Gala. Last year, the model went for a dominatrix look in a Chrome Hearts ensemble that included a latex bodice, leather jacket, and fingerless gloves. The year before, Hadid stunned in a netted Alexander Wang jumpsuit. (One thing to note is that she consistently chooses head-to-toe black outfits no matter the theme for the year.)
Also like Evangelista, Bella's hairstyle this year accentuates her bone structure, showcasing her chiseled facial features perfectly and making a case for pixie cuts for spring. It's a fearless look, so naturally Hadid was game. As haircut trends seem to get shorter and shorter each year, this could very well be a trend for the year. One's thing's for sure, it's definitely a cut for the daring (and scissor-happy).
But back to the woman who made the pixie great in the '90s. Below, check out Hadid's modern take on the Evangelista look, then scroll a bit further for runway moments from the original icon who made short hair such a hit in the first place as well as products to make the look your own.
Evangelista modeling a white evening gown from Versace's Spring 1993 RTW collection.
Evangelista in Milan in the 1990s, wearing Genny.