Madonna Just Debuted The Most Dramatic Hair Transformation Of The Season
Jason Merritt/Getty Images Entertainment/Getty Images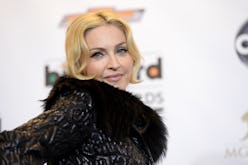 Brace yourselves: Another notable blonde has officially swapped her trademark platinum hue for a drastically darker shade. That's right, Madonna's brown pixie cut is the latest in buzzy celebrity hair transformations making waves in the beauty world. And though it's unclear whether it's permanent or just a temporary wig, one thing's for certain: The singer looks incredibly stunning.
While a handful of celebrities were busy taking part in the viral 10-year challenge over the weekend, Madonna took a slightly different route, opting only to share a photo of her present-day look instead. The singer looked nearly unrecognizable in a series of selfies, thanks to what is easily one of the most dramatic hair transformations of the New Year. Sure, Emma Stone's was quite a change, too, but just wait until you see Madonna's.
The 60-year-old music icon has rocked long, blonde locks for most of her career. But on Jan. 18, she unveiled a seriously different hairstyle on Instagram in the form of a wavy brunette pixie. She captioned the image, "But what if....," alluding to the fact that the new 'do may just be a temporary wig. Another clue? The wig heads behind her in the photo.
Days later on Jan. 21, she posted a second selfie that showed off the wavy pixie, offering up a slightly more front-facing view of her dramatic hair transformation. The cut lands just below her ears and was styled in a deep side part with tight, spiral curls.
Madonna has been a consistent blonde for nearly 20 years now, so it's easy to think that the lighter shade is, in fact, her natural color. But, the singer's real hair is actually a deep, dark brown.
In an interview with Rolling Stone back in 1989, Madonna opened up about the difference between being a blonde versus a brunette, explaining that she feels more grounded when she has dark hair and slightly more ethereal with light hair.
If Madonna's brown pixie cut has inspired you to finally get that dye job you've been putting off, make sure to scoop up a handful of color-preserving products after leaving the salon. Ahead, The Zoe Report's favorites for keeping your new hue rich and vibrant, including the best shampoos, conditioners, and more.
Shop The Look