7 Celebrity-Inspired Short Hairstyles That Will Convince You To Get A Major Chop
@zzoeisabellakravitz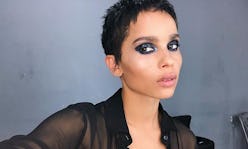 Whether you're commencing a new life chapter or simply looking to switch up your vibe, there's an undeniable magic that comes along with a big chop. As more and more women break boundaries in beauty, they're ditching gender confines and reclaiming their power with a few snips of the shears. Most have at least imagined what it would be like to go super short, but many insist they can't pull it off. Trust and believe that's not the case, and these celebrities with short hairstyles are proof.
Each of the ladies in this roundup have different face shapes, hair textures, and personal styles, demonstrating that the bold look is off limits to no one. There's something inherently badass about taking a risk and going against the grain, and these muses have a palpable confidence about them that comes along with their range of daring cuts. If you're just daydreaming or are still on the fence, these powerful beauties might just get you to phone the salon.
Check out each of their unique styles, and shop The Zoe Report's selection of hero products for each one, ahead.
Laid Curls
The world thought Amandla Stenberg couldn't get anymore adorable, so she promptly proved us wrong by revealing this luscious curly look. With her ringlets moisturized and her edges laid, the 20-year-old has most certainly found her light. And let's not sleep on that glossy eye, either.
Middle-Parted Bob
Dua Lipa has perfected the art of the sleek bob. The singer's signature style is defined by a super-blunt middle part, lived-in texture, and plenty of shine. Whether she's walking the red carpet or running errands in sweats, the 23-year-old continues to prove the versatility of a bob.
Choppy Pixie
The woman, the myth, the pixie: Zoë Kravitz. Even though the ultimate cool girl looks stunning with her signature micro braids, it's always refreshing when she rocks a short look. This slightly messy pixie cut is timeless, chic, and a little bit retro. Mia Farrow would approve.
Kinky Fro
How breezy is this look on model and activist Ebonee Davis? Whether her corkscrew coils are defined and set, or picked out for a full-on '70s moment, the short hairstyle showcases the 26-year-old's stunning complexion flawlessly.
Natural Fade
Where do we begin with Lupita Nyong'o? The Kenyan actor glows from the inside out, and her powerful confidence and gracious spirit is so contagious. Nyong'o regularly tries tons of creative hairstyles, mixing things up with next-level braids courtesy of hairstylist Vernon Francois, but she looks just as gorgeous with this simple, natural fade.
Bed Head
Halsey is the queen of a good hair transformation. The 24-year-old never sticks to one hairstyle for very long, and steadily proves her endless versatility as a true beauty chameleon. This undone pixie paired with bold blue eyeshadow offers edge and glam at the same time.
Buzzed Beauty
If anyone knows how to march to the beat of her own drum, it's Adwoa Aboah. The British model and activist's one-of-a-kind look is so arresting, and her confidence in embracing her individuality is a beautiful thing to behold. Allow the 26-year-old's bold hair and makeup look to convince you to at least consider a full buzz cut.