The Game-Changing Travel Hack Successful Women Swear By
g-stockstudio/Shuttterstock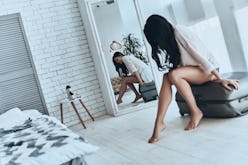 If you're in the market for some business travel tips, Jen Rubio is your woman. As co-founder, President and Chief Brand Officer of travel company Away, the entrepreneur has literally made an entire career around jet-setting. So if hopping from town to town for work or pleasure has your brain in a constant scramble, you might want take a page from Rubio's well-traveled book.
The female business guru understands travel woes better than anyone. In fact, that's how the whole concept of Away (which creates quality and innovative travel essentials) came to be, she explains. "The idea for Away came from a personal problem," Rubio tells the The Zoe Report. "My suitcase broke while I was at the airport, and I couldn't find a great replacement." The entrepreneur says in that moment she realized that despite the fact that luggage is needed for travel, it's often an afterthought for most people. "I called my co-founder Steph to see if we could figure out why that was the case. Two things became really clear: First, that luggage was either cheap but poorly made or it was more expensive than the trip you were taking it on. Second, other luggage brands were focused on talking about the features of their products, like the zippers and the wheels, but none were actually talking about travel or building any type of connection with their community."
The rest, as they say, is history. Rubio says she and co-founder Steph Korey then saw an opportunity to create a direct-to-consumer model that "cut out the middleman and sells directly to our customers, meaning we could offer premium products at an unprecedented price." The model worked. Over the past few years since its inception, Away has rapidly made a name for itself in the industry by creating top-line travel accessories that appeal to a garden variety of personalities and travel styles. Its signature and inaugural offerings, suitcases, are now cult-favorites, thanks to their sleek durable designs and features like ejectable battery that charges your phone, TSA-approved combination lock, and hidden laundry bag. And that's just the beginning. In addition to suitcases, Away has tackled other travel standards like bags, backpacks, and interior organizers to keep your suitcase in order.
Rubio and Korey have also used the brand to appeal to the wanderlust generation and spark some meaningful conversation around travel and exploring the world. Part of this conversation is how to allow luggage to work for your travels and not against them. The last thing one wants is to be weighed down by their cargo. In fact, a good amount of travel woes revolves around packing and carrying luggage around, so who better to glean jet-setting tips than from the woman who has it down to a science? Ahead, read about Rubio's unique business journey and how she's learned to travel like the lady boss she is.
The Zoe Report: What has starting Away taught you about travel and packing? Have you picked up any new hacks as a result of starting the company?
Jen Rubio: I've loved to travel for as long as I can remember, so I've naturally become a pretty efficient packer, but the one trick I swear by is using packing cubes. They've improved my trips so much that we introduced our own line at Away. They're great for keeping everything in your suitcase neatly organized, and because I'm often traveling to multiple places with just a carry-on, I can pack each cube based on the style or climate of each stop.
TZR: What are some of your top packing tips for business travel specifically?
JR: The more I travel, the more of a minimalist I've become, packing items that are inherently versatile and can easily be dressed up or down, as well as only my most cherished jewelry.
I don't really have a specific strategy for a business trip, since I'm often going directly from a meeting to dinner or drinks with friends, so I tend to pack items that mix well together, like a black slip dress that I can pair with a tailored blazer or a vintage leather jacket, black trousers that I can pair with a silk blouse and booties, or comfortable flats and a couple of neutral tops or a few scarves. I avoid checking a bag at all costs, so being a light and thoughtful packer is essential.
I'll also pack travel-sized versions of my favorite toiletries; I like having my tried-and-trusted favorites so my beauty routine feels consistent whether I'm at home or in a hotel.
TZR: Besides a solid suitcase and packing cubes, what are some other travel accessories you swear by for business trips?
JR: The Everywhere Bag is my go-to personal item when I'm traveling. It helps me keep everything I might need on the plane easily accessible, rather than tucked away in my suitcase or floating around in a large tote. With all the different compartments, everything has a place, so I can easily grab the things I might need in transit, such as my laptop, chargers, or reading materials.
I also have a few personal favorites that I always pack to help me feel relaxed and well-rested during any trip: a Slip silk eye mask for sleeping; a facial mist (my favorite is Tata Harper's Hydrating Floral Essence) because the air inside the cabin can be so dehydrating, and noise-canceling headphones.
TZR: How do you stay organized and clear-headed when your job demands so much travel and jet-setting?
JR: Since I'm often on several flights a week, one thing that helps me to stay on a consistent schedule and combat jet lag is synching meals with my destination timezone. If I'm flying from New York to Copenhagen on an overnight flight, I'm not always hungry when I land, but it's 9 a.m. in Copenhagen so I'll make sure to eat a real breakfast to help me get adjusted to that timezone. Another (cliché, but true!) tip is to always drink a lot of water — flying dehydrates you so quickly, so I avoid alcohol and soda on flights and stick to water.