The Simple CBD Cocktail You'll Be Making All Summer Long
Monk Drinking Botanicals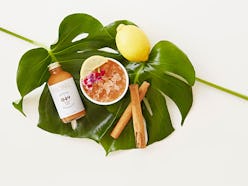 It's summertime, and one of the simplest pleasures of the season is kicking back with a cool beverage that can help you relax and unwind. But sometimes you don't want to partake in a boozy concoction to get that effect — whether it's part of your recently adopted dietary plan, you'd rather skip the hangover, or some other reason that makes you want to pass. And because it's 2019 and there are a plethora of buzzy wellness drinks that don't involve alcohol, one option to consider is whipping up some CBD cocktails instead.
In case you're not yet well-versed on this super popular ingredient that offers you the anti-inflammatory and anti-anxiety effects of the cannabis plant but without psychoactive effects of THC, CBD can now be found in everything from candies to beauty products — but not all products are created equally. That said, why drink yours instead of utilizing it another way? According to some industry experts, it's a matter of creating an experience.
"We believe that the emotional and social benefits of a good drink are crucial to the modern adult's well being," says Mel McGraw, co-founder and Chief Brand Officer of Monk Drinking Botanicals. "One of the benefits of CBD is its power to relieve stress. Washing down a sandwich with a CBD-infused water or soda may help, but for us it's a missed opportunity to further leverage the benefit of CBD by reminding people to take a conscious breath in the middle of their busy lives and be present in the here and now."
And while brands like Monk create ready-to-drink options that will let you create a summer cocktail with just one or two ingredients, you can also DIY using tinctures or oils. "While we believe that taking CBD sublingually (under your tongue) is the most effective way to experience the true benefits, mixing it into a cocktail is a great way to enjoy CBD particularly if you don't enjoy the earthy taste or smell of the natural oil," says Drew Todd, co-founder of Feals.
And Amy Duncan, Founder and Chief Executive Officer of Mowellens agrees, which is why her brand created a flavorless option that can be added to everything from your morning latte to an adult beverage (if you like). "Flavorless is key when adding CBD into your mocktails/cocktails as it still has to taste good," she explains. "Second to that is the ability for our bodies to absorb the CBD you are consuming and have a high enough concentration to feel an effect."
With all that in mind, you're probably ready to create your own version ASAP. To give you a few ideas, McGraw, Todd, Duncan, and more are offering up their ideas for CBD cocktails that might just become your new favorite summer drink — even despite their lack of booze. Find them all ahead.
Grapefruit & Cayenne CBD Cocktail
Because Monk's "drinking botanicals" are pre-mixed bottles of natural flavors (think fresh fruit juices with herbs and spices) plus 20 MG of CBD, they're pretty much ready to drink as is. "Not to be missed is No. 017 (Grapefruit, Cayenne, Cinnamon Bark)," says McGraw. "Simply fill a cocktail shaker with ice, open a bottle, and pour into the shaker. Shake vigorously for about 15 seconds and then strain it into a glass. Garnish with lime wheel or grapefruit peel and you're done!"
Feals Like Summer Cocktail
While Todd admits that he also loves to spike his morning brew with a dash of Feals' potent CBD, this perfectly summer concoction is one of his current favorite ways to get the benefits of the product. "I made a batch of this cocktail for a dinner party last night and it was an absolute hit," he says. "An easy, drinkable summer cocktail that can be made with or without alcohol that's perfect for any social setting."
To make a party-ready batch, blitz 8 cups cubed seedless watermelon in your blender and strain out the solids. Then whisk together freshly grated ginger and the juice of four or five limes and add that in along with a healthy splash of pineapple juice. Chill the mixture for at least two hours. Pour each serving into a glass filled with ice and top with a float of club soda and approximately 30mg of Feals (Todd recommends the 1200mg bottle version).
Cucumber Mint Muddle
CBD-infused flavored sparking water brand Sweet Reason makes creating these mocktails totally simple. "I love Sweet Reason for daily consumption of CBD," says founder Hilary McCain. "And we make it more bioavailable (aka it absorbs better in your system) by putting in micelle form, a scientific process that's proven to have high bioavailability."
For her favorite creation, muddle fresh muddle mint and cucumber, then add a dash of fresh lime juice and top with Sweet Reason's Cucumber + Mint Sparkling Water. That's it!
Iced Hibiscus CBD Mocktail
"This recipe is perfect for all settings — whether at a gathering with friends, while taking bath, or over dinner," says Duncan. "The iced hibiscus is hydrating and refreshing while the oat milk adds a smooth consistency. And the touch of Supercharged CBD is balancing zen perfection!"
To make one, step a bag of hibiscus tea and let it cool. Then combine with six drops of Mowellens Inner Peace Supercharged CBD, four ounces oat milk (almond milk will separate), a splash of vanilla extract, lemon, and honey in a cocktail shaker or jar with lid and shake until frothy. Pour into a glass and top with more ice.
CBD Mango Mocktail Mule
For a tropical twist on the classic Moscow Mule — plus the added benefit of CBD — this one's just perfect for summertime sipping. "This mocktail recipe is amazing not just because it's refreshing and perfect for hydrating during the warm summer months, but also because it features a lot of the same terpenes that can be found in the cannabis sativa plant, from which our CBD is derived," says Ron Gray, VP of sales at Papa & Barkley. "For example, myrcene, which can be found in mango and in cannabis sativa, is known to produce a soothing and calming effect. Therefore, the mango in this mocktail combined with the myrcene in the CBD tincture makes it super relaxing."
To recreate this recipe from Samantha Strelitz, muddle some cucumber slices, then add a bit of honey, lime juice, CBD oil, and mango juice. Pour into a cocktail shaker filled with ice and shake for 8-10 seconds. Strain contents into a glass, then top it off with ginger beer and garnish with a few slices of cucumber.